Zara owner Inditex profit buoyed by India, China
Mar 23 - The world's largest clothing retailer Inditex reported strong trading so far in the current year, driven by aggressive expansion into developing markets like China and India and boosting shares.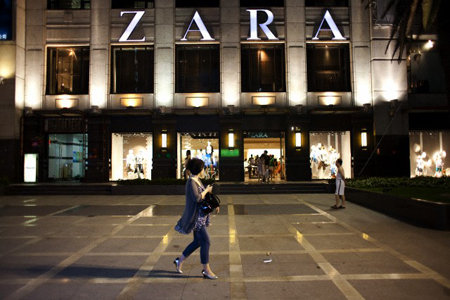 A shopper walks past a Zara store along Huai Hai Road, one of the main shopping districts in Shanghai, China
Zara owner Inditex posted a 32 percent rise in full-year net profit on Wednesday and said store sales in local currencies have climbed by 10 percent from the start of its new financial year to March 14.
"The results are reassuring on like-for-like sales, gross margin and current trading," said Anne Critchlow, analyst at SG.
The company does not break out same-store sales, but Critchlow said the figures suggest a rise of around 2 percent. "That's good news. I thought that could be lower at this point."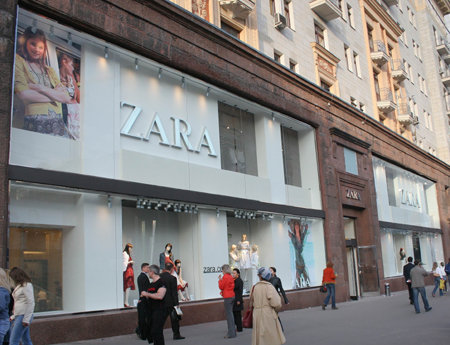 Zara in Moscow, Russia
Inditex's shares opened up 2.8 percent on open, retracing to trade up 1.8 percent at 55 euros by 0908 GMT.
A sluggish economy and unemployment of over 20 percent in home country Spain remains a worry for investors, although Inditex has been increasing market share during a recession in Spain which accounts for around a quarter of sales.
Austerity measures in other European countries like Portugal and Greece have also squeezed consumer spending power.
Inditex reported net profit of 1.73 billion euros ($2.5 billion), in line with a Reuters polled forecast of 1.70 billion euros for the period stretching from Feb. 2010 to Feb. 2011.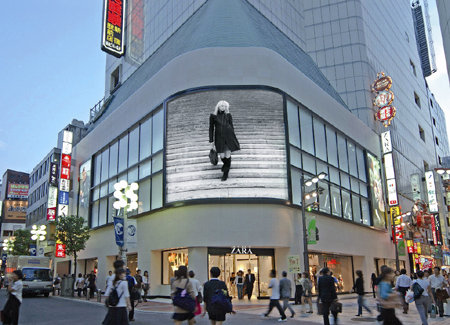 Zara in Tokyo
"It's testimony to how well managed this business is and how it can continue to grow in a slower environment," said Rebecca McClellan, analyst at Santander.
GROSS MARGIN IN FOCUS
Inditex shares trade at 17.9 percent times earnings forecasts for the year ending January 2012, below rival H&M on 19.2 times for the year ending November 2011, according to Reuters data.
The company has expanded from the first Zara shop opened in northern Spain in 1975 to more than 5,000 stores in 77 countries including brands like preppie label Massimo Dutti and youth fashion chain Bershka.
Asia saw one of the most rapid rates of expansion last year with the group's retail presence there now at 645 stores, accounting for 15 percent of sales up from 12 percent last year.
Inditex started selling Zara clothing online in 2010, where the offer this week included trench coats for 69.95 euros and striped bikinis for 12.95 euros.
Labels Pull&Bear, Massimo Dutti, Bershka, Stradivarius, Oysho and Uterque will open online retailing this year, the company said.
Cash-rich Inditex said it would propose a dividend increase of 33 percent, in line with expectations, to a total of 1.6 euros per share.
Investors will watch an analysts' conference call at 0800 GMT for more detail on the gross margin and whether it has been affected by the rising cost of cotton and wage inflation in countries like China.
Questions have also centred around whether Inditex can continue its dynamic store space growth rate of 8 to 10 percent over the next few years.
Inditex said on Wednesday it would open 460 to 500 stores in 2011.

(Reporting by Sonya Dowsett and Sarah Morris; Editing by Hans Peters)
© Thomson Reuters 2023 All rights reserved.