Zale pines for shoppers' love on Valentine's Day
By Phil Wahba and Emily Chasan

NEW YORK (Reuters) - U.S. jewelry chain Zale Corp (ZLC.N) must win back the love of its shoppers this Valentine's Day to stay afloat, but may not have the resources to do so.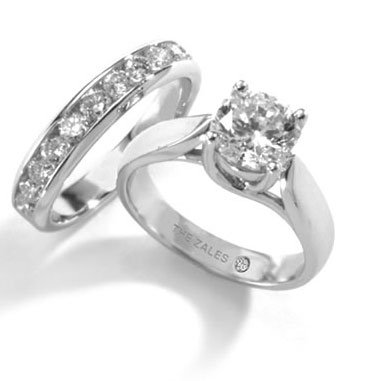 Zale
Zale, the largest North American jewelry store chain with about 1,900 stores, missed out on the sector's fledgling recovery over the holiday season and has been trying the patience of suppliers and creditors alike.
It is heading into the critical Valentine's cycle just after it purged several top executives, including its CEO, and is facing serious concerns about its financial health.
"It's more important from a perception standpoint than a cash standpoint that they have a good Valentine's Day," said Michael O'Hara, an expert in jewelry restructurings and founder of Consensus Advisors in Boston.
"If they have another negative comp for February, that might really spook the vendors. And if that spooks the vendors, they could tighten up their trade terms or they might walk away from proposed long-term trade credit deals," he said.
Zale has posted losses in seven of the last eight quarters and suffered a 12 percent same-store sales drop over the holidays. A liquidity crunch is curbing the Dallas-based chain's ability to put together a proper advertising campaign.
The Wall Street Journal reported last week that Zale was pulling back on much of its Valentine's Day and Mother's Day ads, leaving it with few tools with which to woo shoppers. It may also hire turnaround firm Peter J. Solomon & Co to advise it, according to the Journal.
However uncertain its next steps, skimping on the marketing could be a deadly mistake, said Milton Pedraza, CEO of the Luxury Institute.
"It's part of that vicious cycle: it's another nail in the coffin," Pedraza said. He estimates it will take another two years for the market "to really come back."
Zale is offering discounts online -- like 75 percent off a diamond heart-shaped pendant -- to entice early shoppers, and a February sweepstakes as sales this month may determine how much wiggle room it will get from suppliers.
The company is now squeezed between Tiffany & Co (TIF.N) on the high end, and by Wal-Mart Stores Inc (WMT.N) on the cheaper end. It is also in cutthroat competition with its most immediate rival, Signet (SIG.N) (SIG.L) which operates the Kay Jewelers chain, and saw holiday sales rise 7.6 percent.
Some $670 million in jewelry inventory has been liquidated into the marketplace since 2008, according to Silverman Jewelers Consultants, a disposition company that oversaw going-out-of-business sales at Friedman's and Whitehall, once the third- and fifth-largest North American jewelers, respectively.
Zale is getting some relief from pricing pressure from going-out-of-business sales for the first time in years as the liquidations of rival chains Fortunoff and Finlay are over.
CRUNCH TIME
Valentine's Day, the industry's third-biggest yearly event, could boost Zale's coffers ahead of a lull in sales until bridal and Mother's Day shopping pick up. The April through June period is the second busiest after the holiday season.
As of October 31, 2009, Zale had cash holdings of $24 million, down 31.7 percent from a year earlier. It does have another $129 million available under a $600 million credit line that expires in August 2011.
But Zale has to keep the amount available on the line above $50 million or it will trip its covenants.
It was not clear how much cash Zale has to spare. In November it seemed to have a stash as it bid $755,000 to buy back the trade name of its former luxury unit Bailey Banks & Biddle at a Finlay bankruptcy auction. It lost to a rival.
Even if shoppers do return, they remain price conscious.
"The dollar spent per unit is lower because at Valentine's Day, you are only buying for one person," said Gary Kulp, president of the retail division at Gordon Brothers Group.
Zale declined to comment for this story, citing a "quiet period" ahead of the company's upcoming earnings report.
Still, the company's poor performance in December has left a question mark over its long-term prospects.
Zale's shares are down 75 percent from a September peak. As of January 15, shortly after CEO Neal Goldberg left the company, 13.6 percent of Zale shares were held short by investors betting shares would fall further. That is far above the 3.5 percent average of New York Stock Exchange-listed stocks.
Just before Christmas, Zale canceled some orders with suppliers and delayed payments. Some of Zale's vendors have also tightened their credit terms.
Silverman's Chief Executive Bob Epstein said he has gotten more calls from suppliers looking to sell their wares through a liquidator because of the industry contraction.
"In the past, vendors were able to go to a chain like Zale's and sell them millions of dollars of jewelry. Now nobody wants to sell to Zale's because they don't know what is going on there," Epstein said.
Adding to its woes, Citibank told Zale last year that it would not renew an arrangement for Zale's U.S. customers private-label credit cards after it expires next year. Those credit cards are used in about 40 percent of its U.S. purchases.
Zale is also using more part-time staff, but that may have alienated shoppers who prefer individual attention. And the company lowered inventory levels 10 percent in the year that ended in November to cope with falling sales.
"A jewelry retailer has to have a broad enough assortment in size, shape, in quality so that they (clients) don't walk out the door if they don't find what they need," said Leonard Polivy, a vice president with Gordon Brothers Group.
(Reporting by Phil Wahba and Emily Chasan; Editing by Maureen Bavdek)
© Thomson Reuters 2022 All rights reserved.