Yves Rocher puts global expansion on hold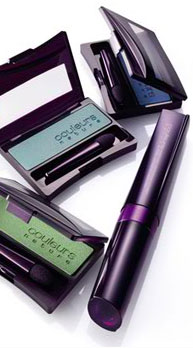 Yves Rocher make-up
By Astrid Wendlandt
PARIS, March 18 (Reuters) - French beauty products group Yves Rocher has shelved plans to enter Latin America because of the financial crisis and predicts sales could either rise or fall up to 2 percent this year.
The maker of plant-based creams also expects the economic downturn to enable it to increase market share as it carries out a branding facelift with a new logo and redesigned stores, its head told Reuters on Wednesday.
The Breton group, whose annual sales of 2.03 billion euros
($2.7 billion) are nearly three times that of L'Oreal's (OREP.PA) Body Shop, is 19.5 percent owned by pharmaceuticals group Sanofi-Aventis (SASY.PA) and 75 percent by the Rocher family.
The group, which is present in 80 countries but has failed to crack the U.S. market, said the crisis had led it to postpone plans to enter Latin America, where it wanted to set up production facilities and expand.
"Now is not a good time to make such an investment," Yves Rocher Chief Executive Stephane Bianchi said in an interview.
"For this year, we think sales could either grow 2 percent or drop 2 percent, it is very difficult to predict," he said, adding the forecast excluded the expected loss of a month's worth of sales because of store refurbishments.
Yves Rocher, which has expanded fast in eastern Europe over the past decade, generates 40 percent of revenue in France and 26 percent in Germany and Russia, its biggest foreign markets.
The company cultivates its own plants such as chamomile and black iris in southern Brittany and runs its own network of stores and mail order and online business.
Yves Rocher decided to change its branding strategy two years ago after realising customers knew little about its organic crops and beauty treatments.
Yves Rocher makes 90 percent of its products in Brittany and owns beauty product brands Daniel Jouvance and Dr Pierre Ricaud.
It also includes childrenswear maker Petit Bateau, one of the last remaining French textile companies along with Lacoste.
In the first quarter its beauty product sales remained flat globally and rose just under 1 percent in France, Bianchi said. They fell 10 percent in Spain.
"Of course, everything is more sluggish than last year," he said, though Petit Bateau sales rose 3 to 4 percent in the quarter at current exchange rates.
CHEAP CREAMS
Yves Rocher, which says one in three women in France uses its products, expects the crisis to encourage consumers to chose its creams, which are on average significantly cheaper than others. This was thanks to lower packaging and marketing costs.
A basic Lancome, Clarins or Estee Lauder face cream costs about 40 to 60 euros in France compared with 15 to 25 for Yves Rocher.
"There is a fantastic opportunity for us to attract those customers that are abandoning more expensive brands," Bianchi said. "We cannot afford to miss it," adding the company was happy with lower margins than competitors.
Chairman Yves Rocher, 79, who founded the company 50 years ago, owns three quarters of the group together with his family under a shareholder pact that locks in members and makes the group virtually impossible to take over.
Bianchi said the group was against a stock market flotation.
Yves Rocher's grandson Bris, 30, the group's vice chairman, is being groomed to succeed him as chairman.
Yves Rocher saw global sales rise 1.8 percent in 2008 at current exchange rates and 3 percent at constant exchange rates. It makes a net attributable profit of between 3 and 3.5 percent of sales, Bianchi said.
(Editing by James Regan and David Holmes)
© Thomson Reuters 2023 All rights reserved.