After its Svarowsky encrusted offerings and its curved zipper technology, the Japanese company specializing in the manufacture of zippers has unveiled its latest innovation: the leather-bound zipper. A system developed at the request of the brands who plan to embed the sliding zipper directly onto leather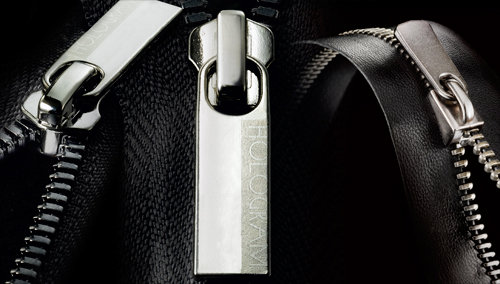 Laser Hologram technology (left) and leather-bound zipper (à right)
The concept was made possible by the use of lambskin and an asymmetrical mesh that compensates for the material's natural resistance. For the time being, reserved for a specific offering of products ranging form luggage to the pockets of clothing, the leather-bound zipper is available for now in tones of black, chocolate, mocha, beige and cream.
The manufacturer has also taken advantage of the last Modamont trade show in order to demonstrate its other innovations, such as the new generation of Excella zippers and the Laser Hologram. The latter allows for zippers engraved with the colors of a brand with an advanced precision. The graphic quality obtained, which is difficult to reproduce, would also prevent counterfeiting.
With five billion euros in revenues, YKK is the leader in the world of zippers. The company produces more than two million miles of zippers annually.
Copyright © 2023 FashionNetwork.com All rights reserved.