Yahoo says makes headway in Alibaba talks
May 26 - Yahoo Inc said it had made significant progress in negotiations over compensation for a Chinese online payment company spun off from the Alibaba Group that Yahoo partially owns.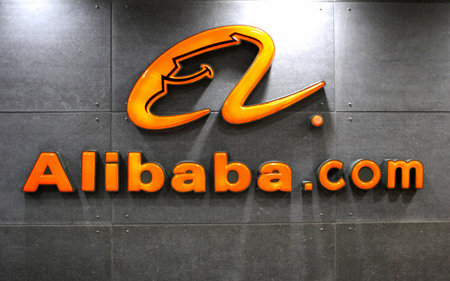 The Alibaba.com logo at the Alibaba.com headquarters in Hangzhou, China (Photo: Corbis)
Yahoo co-founder Jerry Yang and Chief Financial Officer Tim Morse flew to Asia last week to engage Alibaba and investor Softbank about the issue, though Yahoo Chief Executive Officer Carol Bartz admitted the situation was complex.
"There're a lot of moving parts but we're making progress," Bartz told investors at an annual analysts' meeting on Wednesday. "We're not going to get into a public back and forth."
Investor attention has been squarely focused on Yahoo's Asian assets, which include a 43 percent stake in Chinese e-commerce giant Alibaba and a 35 percent stake in Yahoo Japan Corp. Some investors believe those assets could potentially be worth as much as Yahoo's entire current market value.
Yahoo's stock rose as much as 5.3 percent on Wednesday but later retraced its steps and was up 0.5 percent at $16.22 in early afternoon trading on Nasdaq
Bartz, who joined Yahoo as CEO in 2009, also said the management team was focused on reviving the stalled revenue growth within Yahoo's core business, which includes a vast collection of websites and its Web-based email service.
Yahoo is one of the most popular destinations on the Web and the No. 1 provider of online display ads in the United States, but the company is facing increasing competition from social networking service Facebook and continuing pressure from search leader Google Inc.
"I know it's somewhat very popular to say Yahoo is not turning around. But we have 14,000 people and a management team that's working very, very hard to do just that," Bartz said. "I would insist that you give us some credit for turning this company around," she later added.
Bartz cited the improvements in operating margins and earnings in recent years, as well as in improving the company's Web publishing infrastructure, but said that the company's number one priority was to boost revenue.
"I want to make sure you understand that we're not running this company based on cost. We are running this company for growth," she said.
While a landmark search partnership with Microsoft Corp has failed to deliver the expected lift in ad rates, Bartz reiterated previous comments that revenue-per-search rates will start to rise in 2012.
ALIBABA ASSET TRANSFER

Yahoo's shares have fallen roughly 12 percent since early May, when the company disclosed that Alibaba had transferred its popular online payment subsidiary Alipay to a separate entity controlled by Alibaba founder Jack Ma, potentially diminishing the value of Yahoo's stake in Alibaba.
Alibaba said the transfer was done in order to meet Chinese regulations regarding foreign ownership of online payment companies.
Bartz spent the first 45 minutes of Yahoo's analyst day flanked by Morse and Yang addressing Alipay and fielding questions from analysts.
The CEO, feeling the pressure from complaints that Yahoo was too slow in announcing the asset transfer, said its disclosure was "timely and appropriate."
The trio of executives repeatedly stressed that all parties in the negotiations were agreed on basic principles, particularly to ensure that Alipay continue to be a driving force behind auctions site Taobao -- Alibaba's key strategic asset -- and that the payments system be among the first to win an operating license from the Chinese government.
Bartz also said all were agreed that the Alibaba Group -- and hence Yahoo -- receive adequate "compensation" for Alipay.
"Alipay needs a license to be worth anything," Yang said.
(Reporting by Alexei Oreskovic and Edwin Chan; Editing by Gerald E. McCormick, Tim Dobbyn and Bernard Orr)
© Thomson Reuters 2023 All rights reserved.