Woody Allen settles lawsuit over image for $5 million
NEW YORK (Reuters) - Clothing company American Apparel settled film director Woody Allen's lawsuit over the use of his image in advertising for $5 million (£3.26 million), Allen said on Monday 18 May as the case was about to start.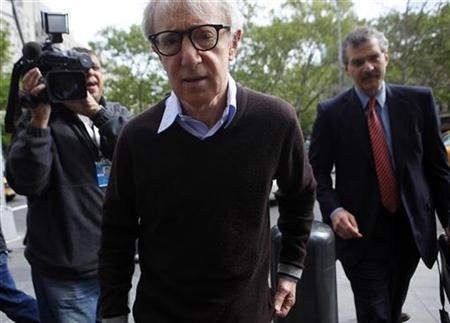 The American film director sued the clothing company more than a year ago after his image appeared on billboards in New York and Los Angeles. Allen says his reputation was damaged and the image from his film "Annie Hall," which showed him dressed as a Hasidic Jew, was used without his consent.
"Five million dollars is enough to discourage American Apparel or any one else from ever trying such a thing again," Allen said outside court in Manhattan on the day the trial was scheduled to begin.
Allen, 73, who says he does not sell his image for commercial profit in the United States, said depositions revealed American Apparel believed fear of publicity would keep him from taking action.
But American Apparel founder Dov Charney had argued that the ads, which also appeared on the Internet, fell under free speech rights and were intended as satire not commercial profit.
"The billboards were designed to inspire dialogue. They were certainly never intended to sell clothes," Charney said in a statement on his Web site.
Charney told reporters later: "I am not sorry for expressing myself. No one wants to be in a conflict of this kind. Again, I have respect for Mr. Allen and I have always said that."
American Apparel, one of the largest U.S. garment manufacturers, has in the past run controversial advertisements that included scantily clad young people in provocative poses. Charney has faced sexual harassment lawsuits by several former employees.
CONTROVERSIAL BILLBOARDS
In the Allen ads, the film director appears dressed as a Hasidic Jew with a beard and black hat next to a Yiddish caption that translated as "the high rabbi."
Charney said he came up with the idea when he was watching a dream sequence in Allen's 1977 movie "Annie Hall." At the time, Charney said he was feeling anguished over the sexual harassment lawsuits against him.
Charney, 40, said he felt a kinship with Allen's character, who was being negatively portrayed, as well as the real-life Allen, who was himself the subject of sex scandals.
The case threatened to get more personal after Allen's former girlfriend, Mia Farrow, and his wife, Soon-Yi Previn, appeared on a witness list.
Allen was the subject of public scandal when in 1992, Farrow discovered he was having an affair with her 22-year-old adopted daughter, Soon-Yi. Allen married Previn in 1997.
"Threats and press leaks by American Apparel designed to smear me did not work and a scheme to call a long list of witnesses who had absolutely nothing to do with the case was also disallowed," Allen said.
Allen, who had sought more than $10 million in the lawsuit, said he might have been awarded more money if he had gone to trial, "but this is not how I make my living."
Asked whether he knew what he would do with the money, Allen answered, "My wife does," before walking away.
By Christine Kearney
(Editing by Doina Chiacu)
© Thomson Reuters 2023 All rights reserved.