Wolford sales up but profits decline
Wolford was able to meet expectations of better revenues for the fiscal year, as foreshadowed in a report from a few weeks ago that the company's third quarter was stronger than the previous two. But it is a slight uptick at best – 154 million euros or just 1.3% more than in 2010/2011. The upscale hosiery specialist is satisfied that they were able to end the year in positive territory (fiscal year ending April 30) after the European economy weighed heavily on their first quarter. Hosiery represents half of Wolford's sales, the rest coming from lingerie, swimwear and ready-to-wear.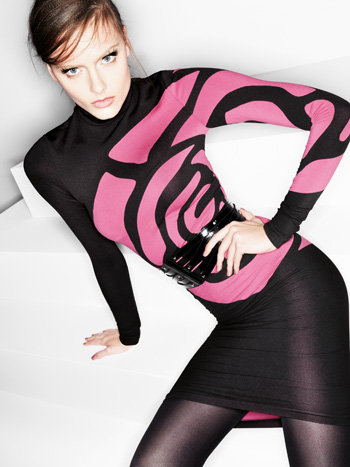 Wolford tights and ready-to-wear, fall-winter 2012/2013
Viewed geographically, the Austrian brand's three largest markets all posted growth. Germany, the leader, rose nearly 5%, followed by second-place U.S., with sales up nearly 4% (10% in local currency), with its third most important market at home delivering a smaller increase of just under 2%. Other growth markets for 2011/2012 were Spain (18%), Belgium (12%) and U.K. (8%).
On the negative side for the year was France, Wolford's fourth largest market, which dropped slightly by just -0.5%. Scandinavia also slightly declined by 1.4%, whereas the Netherlands was down 4%, Italy by 5% and Switzerland dropped a whole 12%.
Wolford CEO Holger Dahmen again lauded the monobrand distribution strategy, which he said is enabling the brand to keep growing. While some franchise boutiques have closed, the brand grew its stores from 106 to 118 for the fiscal year, at the same time continuing to open shop-in-shops in department stores. Retail sales now represent 55% of overall sales compared to 51% last year. But Wolford is also working on a new front. The company's financial report mentions the beginnings of an expansion plan in China for the next years.
Meanwhile, although turnover did increase and is also projected for the current new fiscal year just begun, profits for last year were actually down. Operating profit dropped from 7.3 to 7 million euros. However, the net result underwent some serious erosion, from 5 to 1.3 million euros, in the wake of an audit for 2003 to 2010 that ended up costing the company nearly 3 million in taxes for the period under review.
Copyright © 2023 FashionNetwork.com All rights reserved.