WE Fashion to carry Clarks
WE Fashion is expanding its circle of friends. As part of its cooperation agreements with the brand WE & Friends, the Dutch label will be carrying Clarks shoes in its stores this coming August.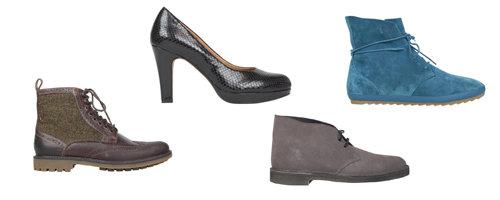 Clarks to offer 13 models including two for children at WE Fashion. Images WE&Clarks
The company has already worked on a similar basis with New Balance. This time WE stores will offer 13 models for men, women and children with the WE&Clarks line.
"For women, you will be surprised by the boots and high-heel snake skin pumps, flats or wedges in suede and oxfords with flower-patterned toe caps in burgundy leather," promises WE in a press release. "As for men, they will love the hiking shoes, but also boots with elastic shafts, brown leather brodequins and Harris tweed."
The collection also includes a Desert boot at 119 euros. Women's models run between 89 and 139 euros and the men's line ranges from 80 and 129 euros . The collaboration gives Clarks access to a network of 250 stores in the Netherlands, Belgium, Germany, Luxembourg, Austria and Switzerland. WE Fashion has nine stores in France. After closing its shop in the Belle Epine shopping center south of Paris and opening an online store a few months ago, the company is now planning an opening in 2013 in the future Les Rives de l'Orne shopping center in Caen, France.
Copyright © 2023 FashionNetwork.com All rights reserved.