Wal-Mart U.S. stores start to show a rebound
Oct 12 (Reuters) - Wal-Mart Stores Inc is seeing sustained improvement at its U.S. discount chain after a sales slump that lasted more than two years, placing the world's largest retailer in a sweet spot heading into the important holiday season.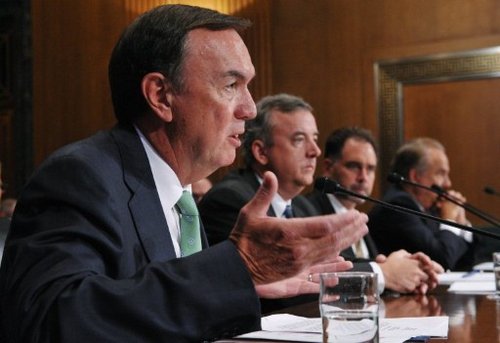 Michael T. Duke, President and Chief Executive Officer, Wal-Mart Stores, testifies before the Senate Finance Committee on the affect of the tax code on hiring, businesses and economic growth July 27, 2011 at the Dirksen Senate Office Building on Capitol Hill in Washington, DC. / Photo: AFP
Sales at U.S. Walmart stores open at least a year have risen for three months straight, though shoppers are not unabashedly spending as economic malaise persists.
The job situation remains the biggest concern for U.S. consumers, Wal-Mart Chief Executive Mike Duke said during the company's annual investor meeting on Wednesday.
"We still feel the customer is fragile. The customer will spend discretionary income, but they will not just go out and spend it without really thinking (it) through," Chief Financial Officer Charles Holley told reporters after the meeting.
Sales at stores open at least a year, a key metric known as same-store sales, rose in July, August and September, said Walmart U.S. CEO Bill Simon.
As gasoline prices have gone down, his division, by far the company's largest unit, has started to see sales hold up a bit better as the month progresses, he added, rather then just seeing a spurt at the beginning of the month when customers receive paychecks and government assistance.
Same-store sales account for about 98 percent of Walmart's sales in the United States, so ending the slump at existing stores is critical for Wal-Mart.
The chain is also a strong indicator of U.S. economic momentum. Walmart discount stores account for nearly 11 percent of U.S. retail sales.
Still, Wal-Mart did not go so far as to change its forecast for U.S. same-store sales -- a 1 percent drop to a 1 percent increase -- in the fiscal third quarter, which ends in October.
Traffic in U.S. stores has improved, though it is still not positive.
Wal-Mart is still tweaking its operations to cut costs more than three years after the financial crisis began. Executives highlighted new scheduling systems, delivery of mixed pallets of goods to stores and other efforts to save money.
Expenses will grow at a slower rate than sales for the second consecutive year, making fiscal 2012 the first time Wal-Mart has accomplished that feat in two consecutive years since 1992, Holley said.
For fiscal 2013, which begins in February, the company forecast sales growth of 5 percent to 7 percent.
Wal-Mart shares ended 0.9 percent higher at $55.20 on Wednesday after rising as much as 3 percent following comments about the U.S. business earlier in the day.
MORE AND MORE WALMARTS

Walmart's U.S. discount chain is resuming holiday layaways after a five-year hiatus and heavily increasing its advertising spending as it tries to win back lower-income shoppers.
It has brought 10,000 items back to stores, propelling sales of goods from hunting gear to underwear, and plans to invest $2 billion over the next two years to keep its prices lower than those of competitors'.
"Walmart's going to be aggressive in price and that just bodes well for the consumer," said ITG Investment Research analyst John Tomlinson, who attended the meeting in Rogers, Arkansas. "This is going to be a very competitive retail landscape this holiday season. They're committed to winning."
Walmart also plans to open up to 385 U.S. stores over the next two years, most of them supercenters, as it tries to retain and expand its dominance in retail.
Wal-Mart plans to increase its overall square footage by 36 million to 39 million square feet this year, and by 45 million to 49 million square feet in fiscal 2013. Most of the growth is projected to come in international markets.
Total company capital expenditures should rise to $13 billion to $14 billion in both fiscal 2012 and fiscal 2013, up from $12.7 billion in fiscal 2011, Holley said. The company is lowering capital spending at the U.S. Walmart division by 7.4 percent from this year to next year, while raising Walmart international capital spending by 11.8 percent, he said.
Walmart U.S. plans to open 130 to 135 supercenters and 80 to 100 small-to-medium stores next year, said Karen Roberts, president of Walmart Realty.
Supercenters remain Walmart's primary growth vehicle in the United States, though new supercenters are smaller than in the past at roughly 90,000 to 120,000 square feet. Before, supercenters averaged about 185,000 square feet.
Sam's Club plans to add 10 to 15 new, expanded or relocated warehouse clubs. That chain has seen strong membership momentum, though executives declined to give details. One thing differentiating Sam's Club from larger competitor Costco Wholesale Corp is that Sam's is the only warehouse club to sell Apple Inc items such as iPads.
Walmart International's leaders, who run thousands of stores from China to South Africa, said that international return on investment should rise three to four percentage points between fiscal 2012 and 2017.
Wal-Mart is not expecting a material financial impact from the pork mislabeling issue it is dealing with in part of China, Walmart Asia CEO Scott Price said.
By Jessica Wohl
© Thomson Reuters 2023 All rights reserved.