Wal-Mart, Target shares diverge after March sales
By Nicole Maestri
SAN FRANCISCO (Reuters) - Wal-Mart surprised Wall Street on Thursday 9 April with a lower-than-expected rise in March sales while Target Corp (TGT.N), which has lagged behind its larger rival, posted a sales drop that was not as big as feared and said it is seeing "encouraging signs" in its business.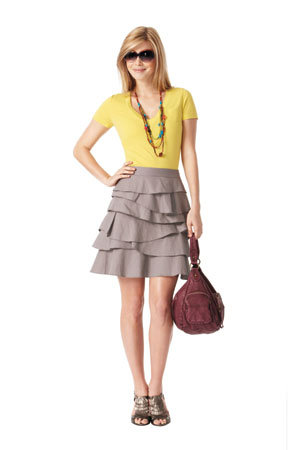 Mossimo Giannulli Spring 2009 at Target (Photo: Target Corp)
Disappointed investors sold Wal-Mart shares but piled into Target, betting the retailer's beaten down stock will outperform as economic conditions improve and consumers once again buy its trendy clothes and home decor.
"There's definitely a move underway," said Barclays Capital analyst Robert Drbul. "The move that we've seen in Target is a reflection of people trying to get ahead of any recovery."
However, Janna Sampson, co-chief investment officer at OakBrook Investments, said investors may be getting ahead of themselves.
"This may all be about expectations more than about sales," she said. "Expectations were for Target to do horribly, and it did slightly better but still pretty horrible. Wal-Mart posted a gain in sales, but not as big as people were hoping."
Still, Wal-Mart did "extremely well" compared with its competitors' sales results, she said.
Wal-Mart shares, which have fallen 3.4 percent in the past 12 months, fell 4.2 percent in afternoon trading. Target shares, which are down 29 percent in the past year, rose 5.6 percent.
DIVERGING RESULTS
Wal-Mart's March sales at U.S. stores open at least a year rose 1.4 percent, excluding fuel, while analysts on average were expecting a gain of 3.2 percent on that basis, according to Thomson Reuters.
The retailer had not provided an explicit sales forecast for the March period. Rather, it had said it expected same-store sales for the 13 weeks through May 1, which roughly tracks its first quarter, to rise between 1 percent and 3 percent. Now, it expects same-store sales in that 13 week period to be around the high end of that forecast.
Wal-Mart has been gaining market share amid the recession as shoppers seek out its low prices on necessities, like food and medicine. Drbul said Wall Street expectations for March were a little overheated, underestimating how its sales would be hit by a shift in the timing of the Easter holiday to April this year, from March last year, and by falling food prices.
Last year, Wal-Mart's sales got a boost as inflationary pressures drove up the price of food, which makes up a large portion of its sales. But some of those inflationary pressures have eased this year and food prices are declining.
"This was all sort of Wall Street driven versus Wal-Mart driven," he said of expectations for its March sales.
Meanwhile, Target's March same-store sales fell 6.3 percent, less than the 7.4 percent decline analysts forecast.
Target said the results were "modestly better" than expectations, and while shoppers are still cautious, it has started to see "encouraging signs" in its operating results.
Investors took that as encouraging news from the retailer, which has struggled with falling profits as frugal shoppers avoid buying its trendy clothes and home decor. To reverse that trend, Target is emphasizing its low prices and improving its selection of necessities, like groceries.
In March, Target said demand was strong for items like food, household cleaners and shampoo, while same-store sales fell in the low double-digit range in apparel.
It expects April same-store sales results to be flat to last year. Target did not provide a profit forecast.
WAL-MART SEES FIRST QUARTER AT HIGH END
Citing strength in its underlying business, Wal-Mart said that for its first quarter, which ends April 30, it expects earnings per share from continuing operations to be toward the high end of its range of 72 cents to 77 cents per share.
In March, it said same-store sales increased 0.6 percent at its namesake discount stores. Traffic rose for the sixth consecutive month, but it said customers, on average, spent less during their visits as food prices fell.
Sales of food and health-care items were strong, as were sales in its home department, which includes furniture and bedding. The retailer has been working to improve results in its home business, renovating its home departments and adding new brands, like Better Homes & Gardens.
Same-store sales jumped 6.2 percent at its Sam's Club warehouse locations. The clubs benefited from the later Easter, which brought an extra day of business in March because it did not have to close its stores for the holiday.
In contrast, Costco Wholesale Corp (COST.O), the No 1 U.S. warehouse club operator, reported a 5 percent decline in March same-store sales. Analysts expected a 1.7 percent fall.
Costco cited weakness in nonfood categories and lower gasoline prices. Excluding the impact of lower gas prices, Costco posted a 4 percent gain.
(Reporting by Nicole Maestri; Editing by Lisa Von Ahn and Gunna Dickson)
© Thomson Reuters 2022 All rights reserved.