Wal-Mart shrinks stores to help grow its business
May 13 - Wal-Mart Stores Inc is testing smaller stores in both inner cities and rural settings as it hopes to reach new customers even while trying to stem a slide in sales at existing U.S. stores.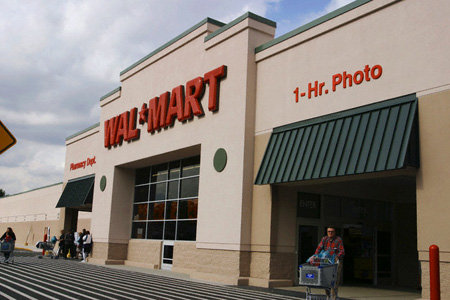 Shoppers visit the Wal-Mart store in Saddle Brook, New Jersey (Photo: Corbis)
Sales at U.S. discount stores open at least a year are expected to have fallen for the eighth consecutive quarter when the world's largest retailer reports earnings on Tuesday.
Wal-Mart, with roughly 9,030 stores, is best known for huge supercenters filled with everything from food to fishing rods.
Now it is trying out a variety of formats, including tests of "Walmart Express" stores that are about 15,000 square feet. The performance of those new stores will show whether the behemoth used to running stores about 10 times that size has the smarts to go small.
"Up to this point the highest-return vehicle has always been that supercenter," said Morgan, Keegan & Co analyst John Lawrence, who has followed Wal-Mart since the 1980s. "They're going to put some of these up and then we'll see how it goes."
Smaller stores would allow Wal-Mart to reach customers who do not live near one of its 3,809 or so U.S. stores. But drugstores such as Walgreen Co and low-priced chains such as Dollar General Corp already flood the market, especially in urban locales.
While Wal-Mart has not divulged much about its new Walmart Express stores yet, Chicago is set to get one as soon as this summer. A push to enter new cities, such as New York, continues to be met with boisterous backlash.
Wal-Mart also plans to open more of its Neighborhood Market stores, which may be a good fit for some city spots at around 40,000 to 50,000 square feet. All in all, about 30 to 40 small and medium-sized Wal-Mart stores are set to open this year.
The time may be right for Wal-Mart and others to go small, as excess space is on the market after other shops closed.
"You can set up a store a lot smaller and a lot cheaper now and sort of test the waters," said Phil Bloodworth, a principal in PricewaterhouseCoopers' U.S. retail and consumer sector.
Still, any retailer tinkering with a new format must determine whether it has the prowess for such a switch. Retailers that have long focused on "big box" stores are not used to stocking smaller shops, especially in cities.
"The key is having that agility in your distribution channel and having fairly tuned planning," said Lisa Feigen Dugal, PwC U.S.'s retail and consumer sector advisory leader.
While it works on increasing its U.S. business, Wal-Mart is also banking on expanding its thriving international business.
Wal-Mart is trying to buy a 51 percent stake of South Africa's Massmart to gain a foothold in sub-Saharan Africa. Hearings are being held this week, as some have expressed fears the deal would crush local business.

RIVALS GAIN SALES WHILE WALMART STRUGGLES
Wal-Mart's top priority, Chief Executive Mike Duke has said repeatedly, is to turn around its momentum after seven consecutive quarters of declining U.S. sales at stores open at least a year, or same-store sales.
Cleaning up stores and clearing out some merchandise a couple of years ago turned off U.S. shoppers, who fled the chain to find what they wanted elsewhere. Now, Wal-Mart is busy bringing about 8,500 items back to U.S. stores.
Wal-Mart's fourth-quarter earnings topped expectations despite disappointing sales. Analysts expect Wal-Mart's lean operations to again mitigate any impact from sluggish sales.
"The numbers have been good overall, but the sales have been weak" and the market wants to see sales rebound, Lawrence said.
Momentum may be on its side, as Friday's Thomson Reuters/University of Michigan survey showed improved U.S. consumer sentiment despite the high gasoline and food prices that pressure shoppers on tight budgets.
For the first quarter, Wal-Mart forecast a profit of 91 to 96 cents per share. Analysts currently expect it to earn 95 cents per share, according to Thomson Reuters I/B/E/S.
Wal-Mart's U.S. same-store sales likely fell about 1.3 percent in the quarter, while Target's rose, according to analysts' expectations gathered by Thomson Reuters.
Still, investors have slightly stronger convictions about Wal-Mart's potential than rival Target Corp. Wal-Mart shares trade at 12.1 times expected earnings versus Target's 11.7 ratio. Bigger gains are expected from BJ's Wholesale Club Inc, which may sell itself, and which trades at 17.8 times its expected profit.
All three companies plan to issue results next week.
(Reporting by Jessica Wohl, editing by Matthew Lewis)
© Thomson Reuters 2023 All rights reserved.