Wal-Mart sets new $15 billion share buyback plan
FAYETTEVILLE, Arkansas (Reuters) – Wal-Mart Stores Inc's (WMT.N) announced a new $15 billion share repurchase plan on Friday 5 June and said market share gains it has made amid the recession are permanent as a "new normal" emerges in which consumers seek to save money.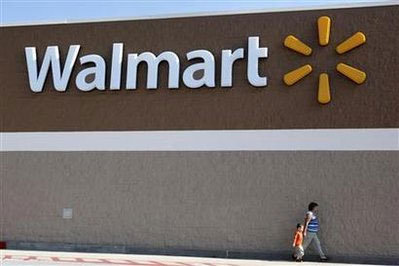 Photo: REUTERS/Jessica Rinaldi
"Let me be clear, and people ask me about this all the time, our customers will stay with us when this economy turns around. And when they have more discretionary spending, they'll stay with Wal-Mart. I promise you that," newly installed CEO Mike Duke told the more than 16,000 people gathered for the retailer's annual meeting.
"We are building long-term loyalty to Wal-Mart."
Wal-Mart has grabbed share during the economic downturn as frugal shoppers seek its low prices. Its shares rose 18 percent last year as investors sought a safe haven from the financial crisis.
But its shares have fallen about 10 percent this year as investors seek better returns with more discretionary retailers that might benefit when good times return.
Duke, in his first annual meeting since taking the helm of the discount behemoth on February 1, was adamant that Wal-Mart can retain its new shoppers once good times return.
It is renovating its U.S. stores, decluttering shelves, widening aisles and adding skylights to appeal to higher-income shoppers who are coming through its doors. It has improved its offering of name-brand items, adding Apple (AAPL.O) iPhones and clothes by designer Norma Kamali, to impress new shoppers.
"The improvements we've made, they are permanent and they are sustainable. We are not going back," Duke said.
He said the economic crisis caused a fundamental shift in consumer attitudes and a "new normal" has emerged in which shoppers want to save money and are getting smarter about saving.
BUYING BACK STOCK
Wal-Mart Chief Financial Officer Tom Schoewe said the retailer has approved a new $15 billion share repurchase plan to replace its old $15 billion plan, under which $3.4 billion was still remaining.
"Your balance sheet today is stronger than a year ago," Schoewe told the thousands of Wal-Mart employees in attendance at the meeting. "How many companies ... could make that statement?"
The retailer did not provide a time frame in which it would buy back the shares.
"We have outperformed the competition again and again, every single month for five consecutive quarters now. We have reported better comparable sales growth than the market," said Eduardo Castro-Wright, vice chairman in charge of the retailer's U.S. operations.
"Winning feels good, doesn't it?"
To manage the recession, Wal-Mart has planned conservatively. Last year it cut its capital spending plans and said it would pull back on opening U.S. super centers -- its massive stores that combine a full grocery store with a discount store. Remodels are taking center stage and it is looking at opening smaller stores across the globe.
In October at its analyst meeting, Wal-Mart forecast capital expenditures of $13 billion to $14.5 billion for the current fiscal year, or what it calls its fiscal year 2010. It also said it expected to open between 125 and 140 U.S. supercenters in this fiscal year.
In fiscal year 2008, it opened 191 supercenters and had capital expenditures of $14.9 billion.
During a presentation to the media on Thursday 4 June, Wal-Mart said its strong financial position means it is well positioned to take advantage of acquisition opportunities in countries like Russia and Argentina.
"We're clearly very actively looking at possibilities," Wan Ling Martello, the chief financial officer of Wal-Mart International, told reporters.
Castro-Wright said the retailer has developed a new diversity strategy that will help it put more women and minorities into leadership positions within the company.
"That diverse leadership makes our business stronger," he said. "Growth happens not when everyone at the table thinks the same way."
Wal-Mart shares rose 23 cents to $51.10 in recent trading.
(Reporting by Nicole Maestri, editing by Dave Zimmerman)
© Thomson Reuters 2022 All rights reserved.