Wal-Mart must prove executives right on U.S. recovery
Feb 22 - Wal-Mart Stores Inc investors are eager to see whether management made good on the claim that the company's biggest business, its namesake U.S. discount chain, would finally see sales turn the corner.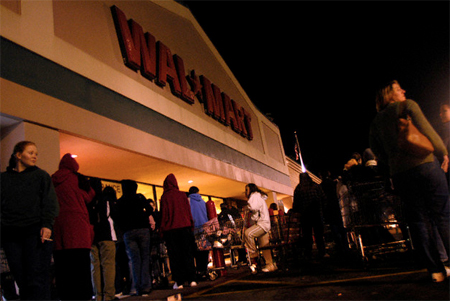 Wal-Mart in redding, California
Under Chief Executive Mike Duke and new U.S. chief Bill Simon, the world's largest retailer is stocking more goods and has a renewed focus on consistently low pricing.
Tuesday's quarterly results will show whether the fresh management team at the U.S. discount chain was able to make a difference in the key fourth quarter.
While Wal-Mart has expanded into more than a dozen countries and is ripe for further international growth, the U.S. stores still represent the lion's share of its business.
Nearly 64 percent of its $405 billion in fiscal 2010 sales came from the U.S. discount stores, and they are key to pleasing Wall Street.
"The U.S. business has to remain healthy or the stock price isn't going to be healthy, and that's the trick at this point in time," said Patty Edwards, chief investment officer of Trutina Financial.
Shares of Wal-Mart have risen 2.7 percent since the beginning of the year, trailing gains of about 7 percent in the Standard & Poor's 500 index and the Dow Jones industrial average.
Four analysts have downgraded Wal-Mart's stock since the beginning of 2011. Many said they were concerned about sales at stores open at least a year at its U.S. discount chain.
The company made a bold suggestion in November, when it said fourth-quarter same-store sales at its namesake U.S. stores should rise, even though its official forecast suggested a decline of 1 percent to a rise of 2 percent.
After some tough winter storms and higher food and gasoline prices, Wal-Mart must now show whether such sales grew, or if it chalked up its seventh consecutive quarterly decline.

BIGGEST QUARTER OF THE YEAR
The fourth quarter is Wal-Mart's largest in terms of revenue and profit. Analysts, on average, expect Wal-Mart to post a fourth-quarter profit of $1.31 per share on $117.68 billion in revenue, according to Thomson Reuters I/B/E/S.
Several other U.S. retailers will issue results this week, including Home Depot Inc and Macy's Inc on Tuesday.
Wal-Mart trades at 12.4 times expected earnings, just ahead of smaller rival Target Corp's 12.2 times expected profit. Target is due to report results on Thursday.
Wal-Mart is reasonably valued at that level, which is below its five-year average of 14.1 times expected earnings, according to JP Morgan analyst Charles Grom, who downgraded the stock to "neutral" earlier this month.
Analysts and investors want to hear more about Wal-Mart's plans to enter more cities, such as New York, with small stores.
Meanwhile, Wal-Mart stands to benefit if shoppers choose to buy more groceries at its stores as prices rise. As the largest U.S. grocery retailer, it must react to chains such as Family Dollar Stores Inc selling more food as prices for groceries and gasoline pressure low-income shoppers.
"This theoretically could be one of those times when Wal-Mart could win but it depends on how they've played their hands and I'm just not 100 percent certain that they've really played this one as well as they could have," Edwards of Trutina Financial said.

(Reporting by Jessica Wohl; Editing by Richard Chang)
© Thomson Reuters 2022 All rights reserved.