Wal-Mart cutting 700-800 jobs at its home offices
By Nicole Maestri
NEW YORK (Reuters) - Wal-Mart Stores Inc (WMT.N) is cutting 700 to 800 jobs at its Wal-Mart and Sam's Club home offices as the world's largest retailer looks to realign its corporate structure and reduce costs.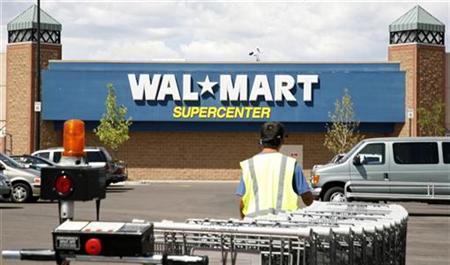 The discount retailer, which has roughly 14,000 employees at its home office in Bentonville, Arkansas, said on Tuesday that it is eliminating jobs in merchandising, real estate and marketing in its Wal-Mart U.S. division, while cutting merchandising positions at its Sam's Club warehouse division.
"We will continue to take appropriate steps to further align our support structure with our business plans," said Wal-Mart Chief Executive Mike Duke in a memo obtained by Reuters. Duke began serving in the role on February 1.
"We must also challenge costs in every corner of the company in order to keep our business strong today and well into the future," he said.
Numerous retailers, including discounter Target Corp (TGT.N) and department store operator Macy's Inc (M.N) have announced job cuts in recent weeks as the recession crimps sales.
Wal-Mart's sales at U.S. stores open at least a year have been outpacing its competitors, but the retailer has said it would keep a close eye on expenses amid the economic downturn.
Wal-Mart, which has 2.2 million employees worldwide, still expects to hire thousands of workers for its stores this year, said spokesman David Tovar.
The retailer will also add new positions in operations that are taking on greater importance, he said. For instance, given Wal-Mart's increased focus on renovating and relocating stores, the company will add jobs in that area, he said.
Last year, Wal-Mart eliminated dozens of positions in its struggling apparel division at its home office and expanded the presence of its apparel unit in Manhattan.
As part of the latest realignment, Wal-Mart will again cut the size of its Arkansas-based apparel division while adding more jobs in New York.
Wal-Mart shares fell 3.5 percent to $47.58 in afternoon New York Stock Exchange trading.
(Reporting by Nicole Maestri; Editing by Brian Moss, Lisa Von Ahn and Bernard Orr)
© Thomson Reuters 2022 All rights reserved.