Wal-Mart CFO--Measure us vs competitors
* Says "way more difficult" to provide financial forecast
* Investors should track Wal-Mart's performance vs peers
By Nicole Maestri
NEW YORK, Feb 17 (Reuters) - Tracking Wal-Mart Stores Inc's (WMT.N) performance could be a more complicated endeavor for investors this year, the chief financial officer of the world's biggest retailer said in an interview on Tuesday.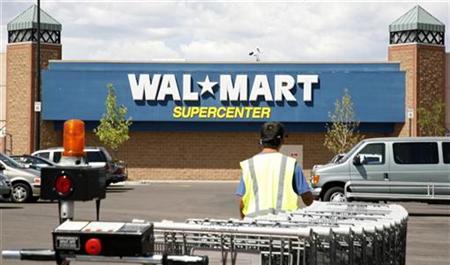 The uncertain global economic climate has made it "way more difficult" to provide financial forecasts, and investors will need to measure the retailer's performance relative to its peers, said CFO Tom Schoewe.
Last year, Wal-Mart's sales got a boost from soaring food prices, while profits were helped by a weak U.S. dollar. But this year, food prices are moderating, and the retailer expects currency exchange rates will hurt full-year results by about 13 cents per share.
"It is way more difficult now than at any time that I can remember to provide guidance," Schoewe said.
To gauge how Wal-Mart is performing this year, Schoewe said investors should look how its numbers stack up against competitors like grocer Kroger Co (KR.N) and discount retailer Target Corp (TGT.N).
"Comparing our absolute results to the prior year is going to be difficult in food because we had inflation during that time period, and we're going through kind of disinflation as we sit here today," he said.
"But ... the other grocers are going through the same thing; so how is our relative performance ought to be the ultimate question."
Schoewe also said that while Wal-Mart apparel sales may have been weak in the fourth quarter, "what's really important is that our apparel comps did very well relative to the apparel competition, and our food comps did well versus our food competitors," he said.
A FOURTH-QUARTER EXAMPLE
The difficulty in forecasting results was seen during Wal-Mart's fourth quarter, which ended Jan. 31.
In November, Wal-Mart forecast quarterly earnings per share of $1.03 to $1.07. But last month, it lowered that view to a range of 91 to 94 cents per share, sending shivers through stock and currency markets.
It said results would be hurt by a stronger U.S. dollar, a settlement for class-action lawsuits and weaker-than-expected sales in certain divisions.
But on Tuesday, Wal-Mart reported fourth-quarter earnings per share of $1.03, excluding a charge for the lawsuit settlement, beating Wall Street's average view of 99 cents per share. [nN17535726]
"Following a little bit less-than-expected December, January (comparable store sales) came in very strong and Wal-Mart U.S. finished the year in really great form," Schoewe said. "That sales performance is really what led to the beat on earnings."
He also said the retailer's tax rate was more favorable than expected, helping its earnings per share by 1 or 2 cents.
(Reporting by Nicole Maestri, editing by Gerald E. McCormick)
(([email protected], +1 646 223-6173; Reuters Messaging: [email protected];)) See here for "Shop Talk" -- Reuters' retail and consumer blog. Keywords: WALMART/CFO
(C) Reuters 2009. All rights reserved. Republication or redistribution ofReuters content, including by caching, framing or similar means, is expresslyprohibited without the prior written consent of Reuters. Reuters and the Reuterssphere logo are registered trademarks and trademarks of the Reuters group ofcompanies around the world.nN17366591
© Thomson Reuters 2022 All rights reserved.