Vivienne Westwood turns up the heat
By Golnar Motevalli and Cindy Martin
LONDON (Reuters) - Warm, sun-kissed colours evoking the exotic combined with edgy tailoring and feminine draping captured the mood of designer Vivienne Westwood's Red Label collection at London Fashion Week on Thursday.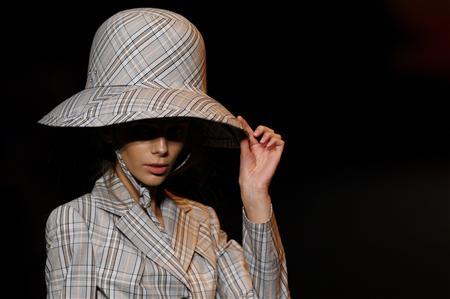 One of the most anticipated shows of the week treated a celebrity-filled audience to a collection which oozed British cool and showcased all Westwood's trademark elements, such as masculine tailoring and cleavage-hugging, corseted gowns.
"This summer our Red Label girl is on another journey. Her destination is a very hot place ... she may find herself in the desert," the show notes said.
Harem pants, hooded dresses and geometric ethnic-inspired prints gave an air of the desert, while punchier fabrics such as black PVC and gold lame referenced Westwood's pioneering punk-rock beginnings in the 1970s.
In keeping with the arid theme, models sported floppy sun hats worn long at the back of the neck, while one model went topless, wearing only a gold lame wrap-around skirt.
"It's the second line and I get a lot of help with that. For example, a man who worked with me for 20 years, he put that together an awful lot," Westwood told reporters after the show.
"I've got this big archive ... my next collection is in Paris, it's called Do It Yourself."
While the pieces were overwhelmingly influenced by the heat of the desert and journeys to faraway places, British checks in light summer wools brought practicality to the collection.
An atmospheric, moody soundtrack accompanied the show in front of an audience that included Joely Richardson, Pamela Anderson, Kate Moss and Dita von Teese.
"I think that Vivienne was one of the first designers that really piqued my interest in modern fashion. I remember saving up all my money for those famous court shoes and they are still in a primo spot in my wardrobe," von Teese told Reuters.
Pamela Anderson was accompanied by a masked friend, rumoured during the show to be pop singer Michael Jackson.
Westwood's personal assistant was overheard by a Reuters witness telling two members of the audience that Anderson's mysterious plus-one was the reclusive "King of Pop".
(Editing by Catherine Evans)
© Thomson Reuters 2023 All rights reserved.