Vicomte A is going places
Vicomte A is in full swing, opening store after store throughout the globe. The stylish brand with a new-classic style opened its first official store in the Middle East on the 1st of May, located in Kuwait City (spanning 160 square meters in the mall 360). It boasts a powerful partner in this region - the Chalhoub Group.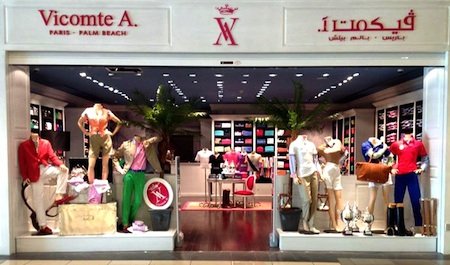 The Vicomte A store in Kuwait City
Also in early May, it opened its first store in London on King's Road. The store, spanning 60 square miles, was opened by a member of the family at the head of the Irish department store Dunnes Stores, Michael Heffernan. This is an important location, according to Arthur Soultrait, founder-director of Vicomte A, especially with the approach of the Olympics games.
The opening of a Luxemburg store spanning 55 square meters is planned for early June, on rue Louis-Philippe. Here too, Vicomte has collaborated with heavyweight partners, the duo of Pascal Einhorn and Fred Castera. The latter operate single-brand upscale and luxury stores in the Grand Duchy. Finally, the French brand has begun to open shop-in-shop locations in department stores in Berlin (Galeries Lafayette) and in Italy, at Coin, in Pisa.
During the course of 2012, a new shop will be launched in Seoul, South Korea, via a distribution partner which will also be responsible for opening of corners in department stores. In the U.S., the brand has signed a distribution agreement with the Venecci Group. It already manages 150 corners for various brands at Nordstrom and Neiman Marcus. It has opened a showroom in New York and the idea for Vicomte A is to grow primarily on the West Coast. Finally, the brand has signed an agreement with the group Takashyama in order to develop its presence in Japan. Three corners should open by summer. export currently accounts for 20% of the turnover, which amounted to 15 million euros last year. The goal is to raise it to 30% in 2014.
A Vicomte still continues to open locations in France. The opening of a branch spanning 50 square meters at the Parly 2 shopping center is planned for June. And in April, Marcy, brother of Arthur de Soultrait, opened a shop of 35 square meters in Neuilly sur Seine.
Today, Vicomte A has a total of 28 eponymous stores. The brand is also distributed through a network of 400 multi-brand outlets, both in France and abroad.
Copyright © 2023 FashionNetwork.com All rights reserved.