Versace opens flagship store in Saudi Arabia
Already well established in the United Arab Emirates, with its boutiques and soon hotels, Versace is now focusing on Saudi Arabia. The fashion house has inaugurated a flagship store in Jeddah, one of the key commercial cities in the country.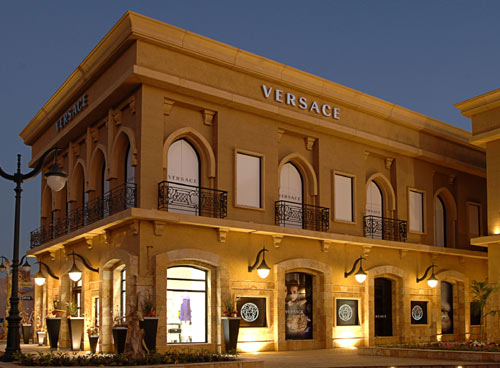 Versace boutique in Jeddah
A mixture of Arabian nights and Versace glamour, the building has a unique style. Gone are the glass store fronts from modern buildings, straight lined office blocks and grey steel, instead the Italian group has opted for local architecture and colours. The local look is only for the store-front though, the inside of the boutique is modeled on the gold, black and white design found in the huge flagship store in Milan. In Jeddah you'll also find, among other nods to prior Versace stores, lacquered furniture, white leather sofas and mirrors on the ground.
In the 250 metres squared store the label has chosen to present a wide variety of items drawn from its collections. Off-the-peg men's and women's wear, accessories, glasses, perfumes, watches, jewelry and last but not least the home collection. A wealth of choice that "reflects our approach to retailing" declared a spokesman for the group. "A fascinating part of our development plan for 2009, this flagship illustrates our firm commitment to the Middle Eastern market."
Present in the major regions of the Middle-East (Dubai, Abu Dhabi, Doha and Kuwait), Versace should continue to see its presence grow, notably thanks to the future Palazzo Versace, developed in collaboration with Sunland Group. However, in terms of sales Asia is still the second largest market for the group, behind Europe.
By Jonathan Fulwell (Source: Emilie-Alice Fabrizi)
Copyright © 2022 FashionNetwork.com All rights reserved.