Versace CEO says no family owners to sell shares
By Astrid Wendlandt
BASEL (Reuters) - Versace, the Italian fashion house seeking to turn the page on its chequered past, is on track to be profitable by 2011 and family owners have no intention of selling their shares, its chief executive said.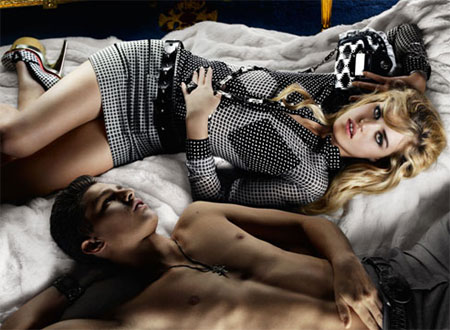 Versace autumn-winter 2009/2010
Gian Giacomo Ferraris said the brand, known for its glittering evening gowns and medusa logo, had a strong start to the year and sees sales rising in 2010 if markets continue to recover.
"This is only with 2.5 months. But I expect group sales to rise between 7 and 10 percent (in 2010)," Ferraris said in an interview on the fringes of Baselworld, the world's biggest watch and jewelry fair.
He said sales were up by more than 10 percent at boutiques since January and the fashion house had pre-sold nearly all of its next winter/fall collection to wholesalers.
After flirting with bankruptcy in 2004, Versace was still trying to recover when it was hit by the 2008-2009 downturn, during which consumers refrained from splurging on the pricey and flashy items that made it a success story in the 1990s.
Versace's sales have fallen since founder Gianni Versace was murdered in Miami in 1997, prompting a period of soul-searching and internal company feuds.
Its total revenue is now about 10 percent of that of Italian rival Gucci (which achieved sales of 2.23 billion euros in 2009) and slightly higher than France's Yves Saint Laurent.
Last year, Versace axed a quarter of its 1,300-strong global workforce, shut its Japanese business and closed an accessories factory in northern Italy.
Ferraris declined to unveil the size of the company's debts but said it was generating enough cash to fund its operations and remain independent.
NO URGENCY
"With this plan, there is no urgency (for any family members to sell). This plan will guarantee the cashflow to run the business without any interference," Ferraris said.
"This year, we will be break even at the EBTIDA (earnings before interest, tax, depreciation and amortization) level. We will be profitable at the EBIT level in 2011."
Versace's revenue fell 20 percent to 272 million euros in 2009 and the group incurred a pretax loss of 30 million euros.
The fashion company's watches and jewelry, which make up 10 percent of revenue, are made by Vertime, a company based in Switzerland which is dedicated to Versace and is a unit of U.S. watchmaker Timex.
"We came to Basel with 50 percent of orders for the year already in our pockets. This is the first time ever," Paolo Marai, chief executive of Vertime, told Reuters during the same interview. "So the beginning of the year is very positive."
He said he expected watch and jewelry sales to rise 30 percent this year.
Donatella Versace, sister of the company's founder and owner of 20 percent of the company, has succeeded in tightening her grip over the company's creative direction in recent years.
But 23-year-old Allegra Versace Beck owns 50 percent while Donatella's brother Santo owns 30 percent and is president of the board.
Ferraris, who joined from fashion house Jil Sander and was previously at Gucci, was hired in June to bring in management and financial discipline.
"We are trying to have transparency and discipline between managers just like a quoted company," Ferraris said. "The main asset of the maison is its creative director Donatella Versace."
Ferraris said the fashion house was not planning for now to diversify its operations into bathing suits and underwear - as it had mentioned in the past.
However, it could soon expect extra licensing revenue from a second Palazzo Versace to open in Dubai next year.
The 1 billion euro project, originally scheduled to open this year, is being built by outside investors and managed by third parties. Versace provides the designs and marketing.
(Editing by David Holmes)
© Thomson Reuters 2023 All rights reserved.