Van de Velde reports revenue growth; slight decrease in net income
In the first semester of 2011, ended on June 30, Van de Velde saw a revenue growth of 7% on a comparable basis, and of 17% including the turnover of its American chain Intimacy which it acquired in the first half of 2010. This increase in sales was fairly generalised in all countries, with the exception of Greece and Northern Europe. While the lingerie group's EBITDA for the first half of 2011 rose by 14% (34 million euros), its net profit decreased by 3% from 25.3 million euros in 2010 to 24.6 million in 2011. According to Van de Velde, its net profit rose by 11% on a comparable basis if Intimacy's damaging results are excluded.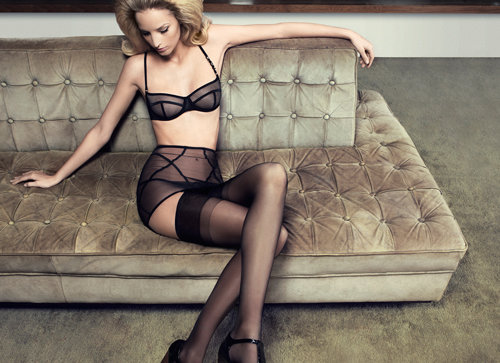 Andres Sarda by Rossy de Palma, A/W 2011-12 collection
The American retail chain experienced a tough first half of 2011. Although its retail turnover rose by 20% to 20.6 million dollars, the growth was mainly thanks to the opening of new stores. Van de Velde attributed the weak results to tough economic conditions in the United States which worsened during Spring.
On the other hand, its Oreia chain grew by 12.5% in Germany on a store-to-store basis. The market share of its brands Marie Jo and PrimaDonna continues to grow, although the group failed to mention its Andres Sarda brand, which had been experiencing some difficulties lately.
Van de Velde anticipates that the second half of 2011 will be even tougher, expecting the gloomy economic climate in America to also hit Europe. Therefore, the group is only counting on a turnover growth for the whole year of 2% to 3%.
Copyright © 2023 FashionNetwork.com All rights reserved.