Urban Outfitters fourth quarter tops market as margins surge
By Nivedita Bhattacharjee
BANGALORE, March 4 (Reuters) - Urban Outfitters Inc (URBN.O) posted a fourth straight quarterly profit that topped market estimates as the clothing and home goods retailer's bohemian styles sold well during the holiday season, and lesser discounting propped up margins.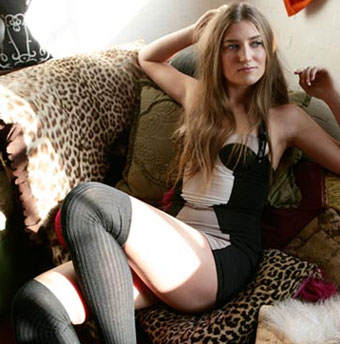 Urban Outfitters
Gross profit margin improved by 771 basis points in a competitive retail environment -- a result of improved initial merchandise margins and a reduction in markdowns, it said.
The operator of the Urban Outfitters, Anthropologie and Free People chains, which also supplies to other retailers, has been managing inventories tightly, but there were concerns that an aggressive cut-back could weaken the fourth quarter.
However, on Thursday 4 March, the company said at the end of the quarter, inventories rose 10 percent, or by $16.4 million, over last year, as it stocked its stores with new merchandise.
Total comparable store inventories fell by 3 percent at cost for the fourth quarter.
"Urban Outfitters maintains a very disciplined approach to inventory, flowing merchandise into its stores quicker than others. So a positive comp indicates an efficiently run operation and product that is selling," analyst Brian Sozzi of Wall Street Strategies said in a note.
During the quarter, sales at Anthropologie rose 23 percent, while those at its namesake stores rose 7 percent.
"Anthropologie is on top of its game, Urban Outfitters improving," analyst Roxanne Meyer of UBS said.
"We think tightly managed inventory, still increasing private label mix, (and) a lower cost structure should foster strong margin growth (in the first quarter)," Meyer said.
The Philadelphia-based company earned $77.7 million, or 45 cents a share, for the fourth quarter ended Jan. 31, compared with $40.5 million, or 24 cents a share, a year earlier.
Last month, the company said sales for the quarter reached $588.5 million, a rise of 16 percent over last year. Comparable store sales jumped 9 percent.
Analysts on average had expected the company to earn 40 cents a share, on revenue of $585.4 million, according to Thomson Reuters I/B/E/S.
Shares of company rose 5 percent to $34.95 in pre-market trade Thursday 4 March. They closed at $33.40 Wednesday 3 March on Nasdaq. (Reporting by Nivedita Bhattacharjee; Editing by Aradhana Aravindan and Gopakumar Warrier)
© Thomson Reuters 2023 All rights reserved.