Urban Outfitters' Fake 'Navajo' Panties
Sun Oct 16, 2011 - Urban Outfitters' "Navajo" panties have, well, gotten the Navajo Nation's panties in a twist.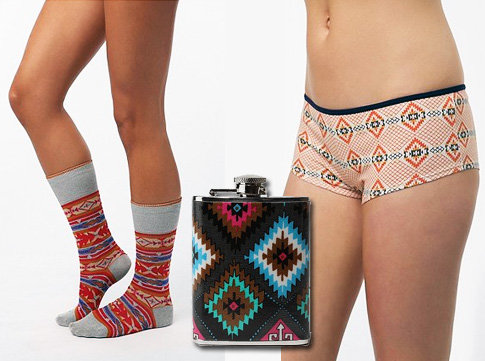 Photo: Urban Outfitters
The trendy retailer recently launched a "Navajo" line of merchandise, including flasks, feather necklaces, and t-shirts. Some are accusing the company of mocking American Indian culture. Urban Outfitters claims it's just cashing in on the current "Native American-inspired trend."
Insensitive or not, are "Navajo" panties legal?
Or will Urban Outfitters soon be facing a lawsuit?
Sasha Houston Brown, the woman who initiated the panty debate, puts forth two legal arguments. She believes that Urban Outfitters may be violating the Indian Arts and Crafts Act of 1990 and trademark law. Let's have a look.
The Arts and Craft Act makes it illegal to sell "any art or craft product in a manner that falsely suggests it is Indian produced [or] an Indian product." The Department of Interior also states the following:
It is illegal to market an art or craft item using the name of a tribe if a member, or certified Indian artisan, of that tribe did not actually create the art or craft item.
This interpretation would arguably make Urban Outfitters' "Navajo" panties illegal.
The word "Navajo" is also trademarked by the tribe, according to the Star Tribune. Trademark infringement occurs when a mark's use is likely to cause consumer confusion as to the source of the disputed goods.
The "Navajo" mark is particularly strong, and Urban Outfitters' goods somewhat resemble traditional art. However, are consumers really likely to believe that the retailer is selling real Navajo goods?
Urban Outfitters' "Navajo" panties are definitely questionable on both legal fronts. Severe pushback from the tribe should thus be expected.
By Stephanie Rabiner
© Thomson Reuters 2023 All rights reserved.