Uma Thurman arrives at Givenchy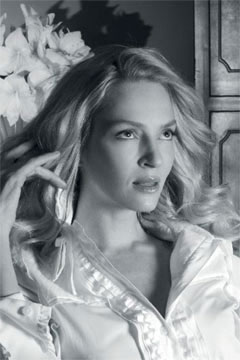 Uma Thurman, new face of Givenchy
Uma Thurman has joined the Givenchy dream team. From this autumn the heroine of cult films Pulp Fiction and Kill Bill (Quentin Tarantino) will be the face of the fashion house, with a perfume that is still under review due in September.
A luminous blond, her allure and fascinating personality - which have already fleshed out many Hollywood characters - have seduced the group.
As a new ambassador she joins a very select group of representatives for Givenchy which includes: Justin Timberlake, Liv Tyler and Marie Steiss.
This is not the first foray into publicity with the LVMH group for Quentin Tarantino's muse though. Previously, Uma Thurman, alongside Scarlett Johansson, portrayed the "mysterious modern woman" for Louis Vuitton. Tag Heuer also called on her charms, drawing parallels between the Hollywood star's glamour and the sports watch brand.
By Jonathan Fulwell (Source: Emilie-Alice Fabrizi)
Copyright © 2023 FashionNetwork.com All rights reserved.