UGG Australia announces partnership with Tom Brady
Nov 30 - UGG Australia has just announced that it is partnering with NFL superstar Tom Brady of the New England Patriots to launch its first men's marketing initiative. The multi-year collaboration between the three-time Super Bowl champion and the brand will include Brady's casual footwear as well as select outerwear and accessories. UGG Australia will feature Brady in its global multimedia marketing initiative beginning with the fall 2011 collection.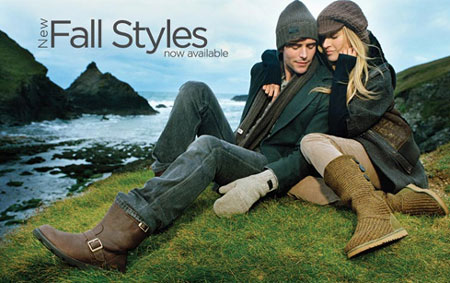 UGG Australia sales in 2010 are expected to exceed $800 million
"This partnership marks a new season for UGG Australia, and Tom Brady is the ideal first endorser for the brand. He embodies the stylish casual attitude that is at the foundation of every product we make." said Deckers Outdoor Corporation Chairman and CEO Angel Martinez."
Since 1978 when an Australian named Brian Smith first brought the high-quality sheepskin boots worn by surfers to the United States, UGG Australia has expanded its product offerings to include a full range of men's cold weather boots, slippers and casual shoes, as well as outerwear and men's accessories. In recent years, the brand history has been eclipsed by the phenomenal success of its women's business. UGG Australia's women's products include a broad assortment of footwear including boots, casuals, slippers, handbags, outerwear, and accessories.
"Given the global phenomenon that is UGG Australia's women's business, it's easy to forget that we started as a men's brand among California surfers," said UGG Australia President Constance X. Rishwain. "Collaborating with Tom gives us the unique opportunity to create new energy around our men's product and launch our first marketing campaign targeted to the male consumer."
At the time of Deckers Outdoor Corporation's acquisition in 1995, sales of the brand were $17 million. In the fifteen years since, UGG Australia has expanded both its production and distribution significantly, adding new products and new lines, including a broad assortment of footwear, outerwear, handbags and accessories, and opening 25 company-owned UGG Australia retail stores worldwide. With sales in 2010 expected to exceed $800 million, UGG Australia has been recognised as one of the biggest success stories in the footwear industry in recent decades.
Marina Felippe
Copyright © 2023 FashionNetwork.com All rights reserved.