Trinity shopping for more European fashion brands
May 23 - Hong Kong luxury menswear operator Trinity Ltd, which last year bought Italy's Cerruti fashion house, is looking to acquire more heritage brands in Europe to fuel its expansion in China, set to become the world's biggest luxury market within the next decade.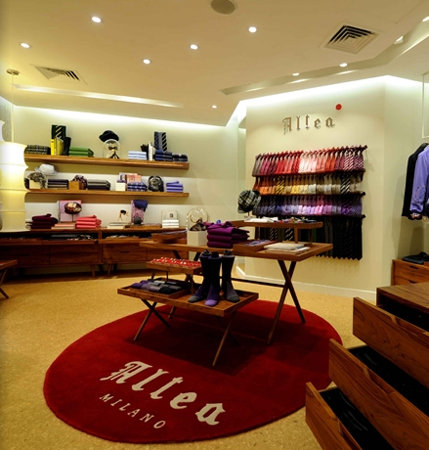 Altea brand (Trinity Ltd)
Retailers operating in greater China, such as Trinity and YGM Trading Ltd, have been acquiring European brands as increasingly wealthy Chinese consumers turn to expensive foreign brands for suits, handbags and shoes.
It is estimated that China's luxury products market will total 74 billion euros ($104 billion) by 2020 from just 9 billion euros in 2010, according to investment group CLSA, as shoppers snap up products from brands such as LVMH Moet Hennessy Louis Vuitton SA, Hermes International SCA and Tiffany & Co.
On Monday, shares of Milan Station Holdings Ltd, a seller of second-hand luxury handbags, rose as much as 77 percent on their trading debut, underlining investor enthusiasm for luxury products and related stocks.
While many companies, Chinese and foreign alike, are trying to develop Chinese luxury brands, Trinity believes long-established foreign brands are the way forward.
"We want to focus on heritage brands and, more importantly, we want to get more European brand names, which we believe Chinese customers like. This is the strategy of the company," Trinity's group managing director, Sunny Wong, told the Reuters Global Luxury Summit on Monday.
"Although we would not rule out the possibility of taking on some American brands, it seems that there are more such brands in Europe than in America," Wong said.
Companies trying to develop Chinese brands include Hermes, which has started a lifestyle brand called Shang Xia, and Richemont Group, which has been using its Shanghai Tang brand since its 1998 acquisition to burnish its Chinese credentials.
Trinity, sister company of consumer goods exporter and logistics consultant Li & Fung Ltd, in December bought Italian fashion house Cerruti for $70 million.
It also owns British clothing brand Kent & Curwen, Japan's D'Urban and Britain's Gieves & Hawkes brand.
In January, Trinity raised $95 million specifically to fund acquisitions.
Trinity has about 450 stores in total, with more than 300 in mainland China where the market is growing rapidly, especially in wealthier coastal cities.
"In terms of a net increase in shops, we are growing at a rate of around 60 shops. I think the speed of expansion is sustainable for next three years," Wong said.
Trinity, which has presence in Beijing, Shanghai, Wuhan and Chengdu, forecast same-store sales to grow at a mid-teens percentage rate. In 2010, Trinity posted a 22.3 percent rise in revenue to HK$2 billion ($258.8 million.)
Wong said the biggest challenge for the company is retaining staff. The company currently has an average annual turnover rate of 20-30 percent.
"Everybody is expanding and there is a scarcity of experienced staff, so I believe this is the biggest challenge," he said. "It is pretty much the case that you have to look at double-digit wage increases, in particular for the shop staff."
Trinity shares, which have fallen over 2 percent this year, were up 1.14 percent on Monday, outperforming the Hang Seng Index's .HSI 2 percent fall.
By Donny Kwok and Lee Chyen Yee
(Additional reporting by Deborah Kan from Insider TV, and Rachel Lee and Farah Master; Editing by Chris Lewis and Matt Driskill)
© Thomson Reuters 2023 All rights reserved.