Top Shop boss says government wasting money
(Reuters) - The government is wasting money by failing to take advantage of its size and credit rating to get the best deals from its suppliers, a billionaire retail tycoon said Monday in a government-commissioned report.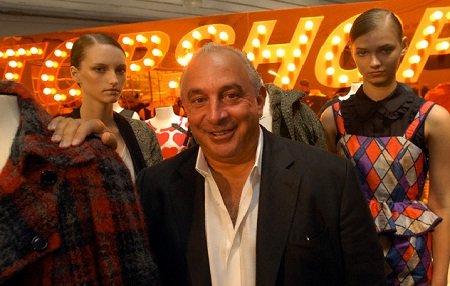 Philip Green showcasing the A/W collection at the opening of Topshop's first New York store. Photo : Corbis. October 2008
The Conservative-led cabinet, which plans next week to announce 83 billion pounds of spending reductions over the next 4-5 years, said the report showed that greater efficiency could help soften the impact of spending cuts.
Philip Green, whose Arcadia Group owns the Topshop clothing chain, was invited in August by Prime Minister David Cameron to study government efficiency. He focussed on procurement of goods and services like computers, travel, print and office supplies and the management of the government's property portfolio.
Green's review, details of which will be published later on Monday, concludes the government has consistently failed to make the most of its scale, buying power and credit rating.
"The conclusion of this review is clear -- credit rating and scale in virtually every department has not been used to make government spending efficient," said Green. "There is no reason why Government should not be as efficient as any good business."
The review found that the data on where and how the government spends its money was of poor quality, the cabinet office said in a statement outlining its main findings.
A lack of a centralised approach to buying goods and services has allowed departments to pay hugely different prices for the same items.
The Conservative-led coalition government took office in May, ending 13 years of Labour rule. It frequently accuses Labour of mismanaging the economy and leading the country to the brink of economic ruin.
"The scale of the waste uncovered by Sir Philip and his team is staggering," Cabinet Office minister Francis Maude said in a statement. "His review shows that for too long there has been no coherent strategy to make government operate more efficiently."
"Every pound that we can take out of the cost of government is a pound we can protect on the front line. Our over-riding aim is to protect the quality of front line services and to protect the jobs of dedicated public sector workers."
(Editing by Peter Graff)
© Thomson Reuters 2023 All rights reserved.