Top 100 brands: luxury makes a comeback
Interbrand has just released its 12th annual ranking of the best global brands. The list takes into account both the financial aspect of a brand's performance and its consumer-impact. Ultimately, while it was hi-tech that occupied the top places on the list, this year's results were notable for the strong comeback made by luxury brands.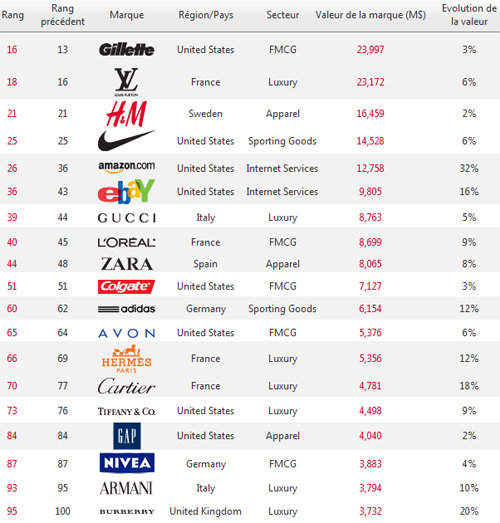 Extract from the list of Best Global Brands 2011 - Interbrand
Despite going down two spots, Louis Vuitton remained in the top 20 at 18th place. Gucci, Hermès, Cartier and Tiffany & Co have each improved, ranging from 3rd to 7th place. Armani moved up to 93rd place, being replaced by Burberry in 95th place. According to Interbrand, this trend may be attributed to strategies employing the brands' iconic status while reaching out to new consumers.
In the apparel sector, the trio H&M, Zara and Gap took the 21st, 44th and 84th place, respectively, the Spanish brand was the only one to move up, while it's American and Swedish counterparts preserved their prior positions. In sportswear, Nike remained in 25th place, while Adidas continued its ascent, climbing to 60th place.
Skincare and cosmetics brands were well-represented, as always. While Gillette moved down to 16th place, L'Oréal went up to the 40th. Colgate and Nivéa remained at their respective 51st and 87th places, whereas Avon went down to 65th placee.
Also markedly present were e-commerce brands, with Amazon moving from 36th to 26th place. Whereas, eBay moved up 7 places to 36th place.
Copyright © 2023 FashionNetwork.com All rights reserved.