The Kooples: Pete Doherty's capsule collection is ready
Pete Doherty has the annoying habit of at best being late and at worst canceling his concerts. With The Kooples, however, there is a happy ending because, although it was six months later than planned because of his incarceration last summer, the capsule collection that the British rocker designed for the famous French brand is ready to be launched. If the young man's reputation is fiery, the wardrobe that he cooked up for next spring is quite smart, in the British sense.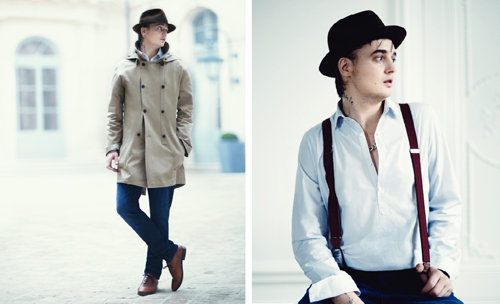 Pete Doherty for The Kooples
The fifteen masculine pieces dress a modern and impeccable dandy. The suits and dress shirts are only occasionally disrupted by straps or cycling jerseys inspired by the Tour de France. While the 8 feminine pieces pay tribute to the icon Jane Birkin. Dresses, hot pans and blazers harken back to the late 1960. Two complete mini-lines supplemented by a few accessories mixed, which include two hats crafted for the occasion by the London milliner Lock & Co.
The Kooples, however, which describes it as a coming together "on an Anglo-Parisian musical axis," will start to market the collection starting March 2012 through its network of boutiques and selling points of which there are almost 180 locations in France and in Britain.
Copyright © 2023 FashionNetwork.com All rights reserved.