The Kooples launches a new sportswear brand
The Kooples is hungry for new projects. The brand launched by the brothers Elisha will have a younger sister in the spring called Kooples Sport. More than a new line, it is thought as a new (almost) independent brand . It is here that the chic sportswear segment is exemplified while maintaining a common link with their existing lines. The Kooples Sport will complement the "tailoring city" line with original pieces that are a casual, vintage and preppy. While the initial brand claimed London as an influence, this one boasts an inspiration that comes from the East Coast of the United States.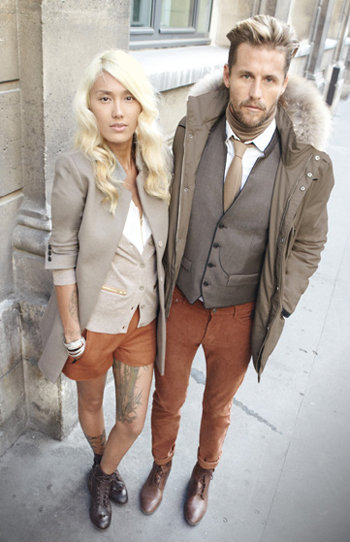 The Kooples - AW 2011/2012
This creation comes as the brand was experiencing a demand for products such as polo shirts or even revisited tracksuits from a new customer. For Spring-Summer 2012, we will therefore see jackets, leggings, sweatshirts, polo shirts, t-shirts and cardigans interpreted in a much wider color palette, and livelier than the familiar Kooples. The new, cooler but still detailed wardrobe, will have its own distribution line.

While a small selection of the new brand will be located in some The Kooples stores, this will above all be the initial run in a wave of store openings scheduled for February-March. Currently under negotiations, The Kooples Sport hopes to open four stores in Paris and just as many in London, which would launch simultaneously. It would also have devoted sections in department stores. The launch of a separate e-shop is in the works as well.
Copyright © 2022 FashionNetwork.com All rights reserved.