Tesco shows overseas value as UK struggles
LONDON, Sept 21 (Reuters) - Tesco , the world's third-biggest retailer, plans to float property assets in Thailand, seeking to highlight the value of overseas businesses as it battles tough trading conditions in its main British market.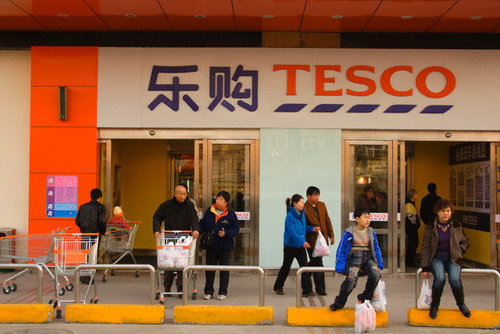 Tesco in China
The supermarket group announced the initial public offering on Wednesday as speculation mounted it is about to launch a major campaign to boost its British operations, and news emerged it is slowing down its expansion into banking.
Tesco makes about two-thirds of its sales and profits in Britain, where shoppers are cutting back spending amid rising prices, subdued wage growth and government austerity measures.
It has suffered more than rivals such as J Sainsbury and Wm Morrison , mainly because it sells more discretionary non-food items including clothing and electricals.
Unlike those competitors, Tesco has an international business which is enjoying particularly strong growth in Asia.
The group moved on Wednesday to highlight the value of that business, with plans to float a Thai property fund with an appraised value of some 14 billion Thai baht ($460 million).
The fund will initially comprise 15 shopping malls anchored by a Tesco Lotus hypermarket.
Finance director Laurie McIlwee said the move was consistent with the group's announcement in April it wanted a proportion of future property profits to come from overseas businesses.
Tesco, third in annual sales behind France's Carrefour and U.S. industry leader Wal-Mart , will keep a one-third stake in the fund, continue to lease all 15 hypermarkets from it, and use proceeds to fund investment.
Retailers have been looking for years to extract more value from their property assets, which they believe are often under-appreciated by investors.
Tesco's property assets, for example, are worth an estimated 36 billion pounds ($57 billion), compared with its market capitalisation of about 29.5 billion pounds.
But the process is not always straightforward and some investors are reluctant to see chains losing too much control of their buildings.
This year, Carrefour pulled plans to demerge a much larger chunk of its property assets following opposition from some investors and managers.
CHALLENGES AT HOME
News of Tesco's plans in Thailand, where it runs more than 800 stores ranging from convenience stores to hypermarkets, came as speculation mounted it is about to launch a major campaign aimed at boosting its British business.
Tesco declined to comment.
Shore Capital analyst Clive Black said the speculation was weighing on the shares of British supermarkets, amid fears of a price war that could hit profit margins.
At 0930 GMT, Tesco shares were down 0.8 percent at 367.85 pence, while Morrison's were off 1.1 percent and Sainsbury's down 0.6 percent, within a STOXX 600 European retail index off 0.7 percent.
However, Black thought a price war was unlikely, noting Tesco's target to improve returns to 14.6 percent by fiscal 2014-15 from 12.9 percent in 2010-11.
Separately, people familiar with the matter said Tesco was slowing down its expansion into financial services after glitches with systems over the summer.
While the group may still launch a mortgage product this year, it would not be accompanied by a big marketing drive.
It was more important for Tesco to get financial products right than to launch them quickly, one person said, pointing to the time likely needed to implement banking reforms announced last week that could encourage more competition in the industry.
By Mark Potter
($1 = 30.410 Thai Baht)
($1 = 0.636 British Pounds) (Editing by David Holmes)
© Thomson Reuters 2023 All rights reserved.