Tesco sales up 10 percent
By Mark Potter

LONDON (Reuters) - Tesco, Britain's biggest retailer, met forecasts with a 9.7 percent rise in first-quarter sales, led by a strong performance in its international businesses and a pick up in sales growth at home.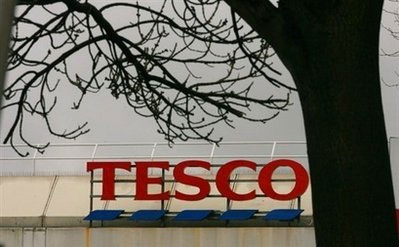 Photo: AFP/File/Carl de Souza
Finance Director Laurie McIlwee told Reuters it was still too early to talk of a recovery in Tesco's markets, but was encouraged that sales growth had returned to non-food lines and upmarket ranges, like "Finest."
"We're still planning on a tough year," he said in a telephone interview Tuesday 16 June, adding shoppers were still focussing on the lowest prices. Sales of Tesco's budget "Value" range were growing around 30 percent year-on-year, he said.
Tesco, which employs around 470,000 people in over 4,300 stores in 14 countries, said group sales rose 9.7 percent including petrol in the 13 weeks to May 30.
Sales at British stores open at least a year climbed 4.3 percent, excluding fuel and VAT sales tax, up from 3.7 percent the previous quarter and in line with analysts' forecasts.
International sales rose 20.1 percent rise at actual exchange rates, or 11.4 percent at constant rates, with a strong performance in Asia offsetting tougher trading in many continental European markets. "An encouraging statement -- their strongest UK performance for many quarters," said Shore Capital analyst Clive Black, keeping a "buy" rating on Tesco's shares.
One trader said the stock was set to open between 2 and 3 pence higher. It closed at 356.1 pence Monday 15 June.
Tesco, which takes almost one in every three pounds spent in a supermarket, has been losing UK market share for months. It says this is due to shoppers switching to its cheaper discount range, which has boosted sales volumes but meant it has not benefited from food price inflation as much as rivals.
J Sainsbury, Britain's third-biggest grocer, is expected on Wednesday 17 June to report a 7.3 percent rise in underlying sales for the 12 weeks to June 13. Industry number four Wm Morrison reported an 8.2 percent rise in underlying sales for the 13 weeks to May 3 earlier this month.
McIwee said Tesco was closing the performance gap with its UK rivals and argued Sainsbury was disproportionately benefiting from shoppers switching out of upmarket food retailers, like Marks & Spencer.
Tesco shares have performed broadly in line with the DJ Stoxx European retail index this year. They trade at 12.3 times forecast earnings, below Sainsbury on 14.3 times and international rival Carrefour on 12.6 times.
(Additional reporting by Dan Lalor; Editing by Andrew Callus)
© Thomson Reuters 2022 All rights reserved.