Tesco sales towards bottom end of forecasts
LONDON (Reuters) - Tesco Plc, the world's No.3 retailer, posted quarterly sales growth toward the bottom end of forecasts, held back by a drop in food price inflation, but said a gradual consumer recovery remained on track.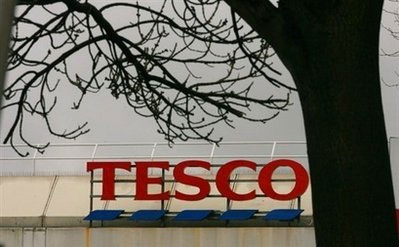 Photo: AFP/File/Carl de Souza
"We are seeing improving customer confidence and encouraging trends in both the UK and our international businesses, although recessionary conditions still exist in a number of markets," Tesco Chief Executive Terry Leahy said on Tuesday 8 December.
The supermarket group, which makes about three quarters of its profit in Britain, said sales at British stores open at least a year rose 2.8 percent, excluding petrol and VAT sales tax, in the 13 weeks to November 28 -- its fiscal third quarter.
That was down from 3.1 percent in the second quarter and just shy of the average forecast of 3 percent in a Reuters poll.
Richard Hunter, head of UK equities at brokerage Hargreaves Lansdown, said he detected "a tinge of disappointment in this update, set against the high expectations which Tesco attracts."
Britain is taking longer to emerge from recession than other major economies and a retail survey earlier on Tuesday 8 December signaled only a gradual recovery.
The government will also need to raise taxes to tackle its huge deficit and is expected to confirm on Wednesday 9 December it is reversing a cut in VAT sales tax which was introduced last year in the depths of the recession.
Tesco Finance Director Laurie McIlwee told Reuters he did not expect the reversal to derail recovery, though he warned against raising the rate above its former 17.5 percent level.
"I don't think that the impact (of VAT rising to its former rate) will reverse the trend in customer confidence," he said in a telephone interview.
"If the VAT goes above that it could be more negative. Just as consumers are getting more confident, to start indirectly taxing people (more) will be a strain on their budgets."
CLOSING THE GAP
Tesco, which has over 4,300 stores in 14 countries, said group sales rose 8.8 percent excluding petrol, with strong growth in Asia offsetting a flat performance in Europe.
That was down from 11.4 percent in the first half but compared well with international rivals like Carrefour SA and Wal-Mart Stores Inc, which are battling food price deflation.
Credit Suisse analyst Andrew Kasoulis said the British figures showed Tesco had closed the gap on previously faster-growing domestic rivals such as J Sainsbury and Wm Morrison Supermarkets.
Tesco's sales have lagged domestic peers for much of this year, hit by its greater exposure to discretionary non-food ranges and by the launch of a discount range, which depressed the overall value, if not the volume, of sales.
Sainsbury reported a 5.4 percent rise in underlying sales for the 16 weeks to October 3 and Morrison a 4.3 percent increase for the 13 weeks to November 1. But these figures did not include as much of the recent fall in food price inflation.
Seymour Pierce analyst Freddie George, however, said the good news was factored into Tesco's shares, which have risen 16 percent in three months, outperforming peers by 17 percent.
He was concerned Tesco is regaining ground by stepping up competition in the sector, with more promotions and a recent doubling of loyalty reward points.
Morgan Stanley analysts said that, given the doubling of reward points, Tesco's British performance was disappointing. "It strikes us that either the initiative isn't working or that the underlying business is continuing to underperform," they said.
At 1028 GMT Tesco shares were down 1.4 percent at 429-1/2 pence, valuing the group at 34 billion pounds ($56 billion). The stock had on Monday 7 December hit its highest in over a year.
McIlwee said like-for-like sales of non-food ranges such as electricals, toys and clothing had continued to improve and were now on a par with food growth rates.
Sales of the group's premium "Finest" range were also growing again, while its online business delivered a record performance last week, he said.
Food prices were likely to remain flat and Tesco's full-year performance expectations were unchanged, he said.
(Editing by David Holmes)
($1 = 0.6080 pound)
© Thomson Reuters 2023 All rights reserved.