Tesco, Sainsbury seen cooling after strong April
June 10 - British grocers Tesco and J Sainsbury are likely to say next week that trading has cooled again as austerity measures bite, after a brief fillip from warm April weather and the UK royal wedding.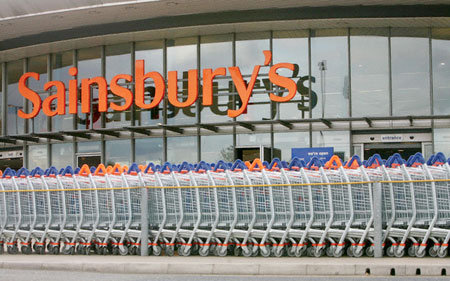 Sainsbury's super-market, in North Greenwich, south east London (Photo: Corbis)
Carphone Warehouse, Europe's biggest independent mobile phone retailer, will also give a keenly-awaited update on its plans for a chain of British electrical goods megastores amid signs of sliding demand for "big ticket" purchases.
Recent data has signalled Britain's retailers, and particularly grocers, saw a surge in demand in April as shoppers made the most of good weather over Easter and an extra public holiday to celebrate a royal wedding.
However, there are also indications trading has quickly reverted to the tougher conditions of earlier this year, as consumers continue to see their budgets squeezed by rising prices, subdued wages growth and government cutbacks.
Home Retail, Britain's biggest household goods retailer, reported a plunge in sales at its Argos stores on Thursday, while Tesco boss Phil Clarke said on Wednesday May was a tougher month than April.
On Tuesday Tesco, Britain's biggest retailer, will report a 0.6 percent rise in sales at UK stores open over a year, excluding fuel and VAT sales tax, for the 13 weeks to May 28, according to the mean forecast of 12 analysts polled by Reuters.
That performance, covering the first quarter of the group's financial year, would be an improvement on the 0.7 percent decline reported for the previous quarter.
Group sales growth is likely to be boosted by a stronger performance from overseas markets like South Korea and Poland.
Tesco, the world's third-biggest retailer behind France's Carrefour and U.S. industry leader Wal-Mart, makes about two thirds of its sales and profits in Britain.
It lagged sales growth at major British rivals over Christmas in part due to its larger exposure to discretionary non-food purchases.
New Chief Executive Phil Clarke has also said the group, which runs over 5,000 stores in 14 countries, needs to spruce up its non-food products and be more innovative.
Analysts expect Sainsbury's, Britain's third-biggest grocer behind Wal-Mart's Asda and Tesco, to report on Wednesday a 1.3 percent rise in like-for-like sales, excluding fuel and VAT sales tax, for the 12 weeks to June 11.
That would be up from 0.2 percent growth in the final quarter of its last financial year.
Tesco shares trade at around 11.3 times annual earnings forecasts, below Sainsbury's on 11.9 as well as Wal-Mart on 12.0 and Carrefour on 12.3, according to Reuters data.
Analysts expect Carphone Warehouse, which owns 50 percent of a venture with U.S. electricals retailer Best Buy, to report on Tuesday a surge in annual earnings, boosted by demand for smartphones and growth in the United States.
However, the focus will be on the Best Buy Europe venture's plans for its electrical goods megastores in Britain.
It had talked about the potential for a chain of 80 to 100 shops. But it has only opened eight so far, and in November raised its forecast annual losses from the new stores to 50-55 million pounds ($82-90 million) amid tough trading conditions.
Rivals Dixons Retail and Kesa Electricals, as well as Argos, have since reported worsening sales trends.
Analysts at Oriel Securities expect one of two outcomes. "Either the Best Buy Europe venture pulls out of the UK altogether, eliminating 50 million pounds of loss to the venture, or the joint venture tries something radical and perhaps embarks on a more aggressive space roll out programme."
By Mark Potter and James Davey
(Editing by Sophie Walker)
© Thomson Reuters 2022 All rights reserved.