Tesco's UK sales fall as consumers feel the pain
World No.3 retailer Tesco Plc (TSCO.L) was hit by a drop in underlying sales in Britain for the fourth quarter in a row as cash-strapped shoppers crimped spending on non-essentials and price cuts ate into revenue in its core home market.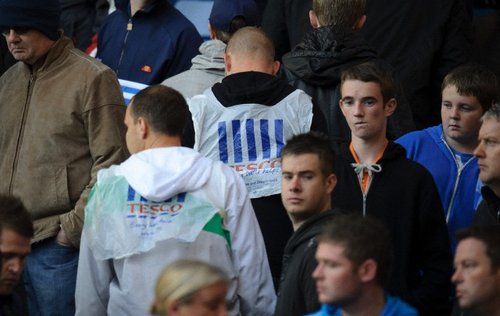 Photo: Corbis
Chief Executive Philip Clarke said on Thursday UK consumers faced severe financial pain: "The UK economy is fragile, unemployment's at a 15-year peak, under-employment's rocketing, so we're facing into tough times," he said.
British retailers are nervous about consumer spending running into the key Christmas trading period following a string of profit warnings from companies such as French Connection (FCCN.L) and Game (GMG.L) and weak industry data for November.
On Wednesday outdoor goods retailer Blacks Leisure (BSLA.L) put itself up for sale and on Thursday shoe shop group Barratts collapsed into administration.
European store groups are struggling as shoppers' disposable incomes are squeezed by rising prices, muted wages growth and government austerity measures, and as they worry the euro zone debt crisis will plunge the region back into recession.
On Tuesday Metro (MEOG.DE), the world's No. 4 retailer, issued a profit warning, saying festive trading had started slowly.
"We're all prepared for it (Christmas) and there's a lot to play for," Tesco's Clarke told reporters.
Tesco, which takes about one in every 10 pounds spent in British shops, said sales at British stores open more than a year, excluding fuel and VAT sales tax, were down 0.9 percent in the 13 weeks to November 26, its financial third quarter.
That compares with analysts forecasts in a range of minus 1.0 percent to plus 0.5 percent following a drop of 0.9 percent in the second quarter.
It also compares with increases reported by rivals Asda (WMT.N), J Sainsbury (SBRY.L) and Wm Morrison (MRW.L), albeit for different trading periods.
Tesco said its outlook for the 2011/12 year was unchanged.
The firm, which trails France's Carrefour (CARR.PA) and U.S. leader Wal-Mart by annual sales, makes around two thirds of its sales revenue and three quarters of its profit in Britain.
The group has suffered in the economic downturn more than its main British supermarket rivals, in part because it sells more discretionary non-food goods where shoppers have been cutting back most.
"SELF-IMPOSED DEFLATION"

Tesco hit back in September, cutting prices in a 500-million-pound investment. It then reduced prices again in November to lure in Christmas shoppers -- a medium term strategy it has coined "self imposed deflation."
Clarke said food and grocery sales volumes were up by nearly 1 percentage point quarter on quarter.
"We created deflation in our food and grocery categories but we've got volume improvement ... The Big Price Drop's having the effect we wanted it to," he said. "We never expected to see it absolutely immediately in the top line."
Finance director Laurie McIlwee said the price cuts contributed over 1 percent of deflation in the quarter.
"We've created quite a chain reaction in the industry," McIlwee said, noting that official UK prices data for October had shown UK supermarkets had helped to pull back food inflation.
Tesco shares, which have underperformed the STOXX Europe 600 retail index .SXRP by about 4 percent this year, initially fell but had recovered to be flat at 396.9p at 1257 GMT, underperforming a FTSE 100 index up 0.25 percent. Analysts said consumers' response to the price cuts had been muted.
"We were hoping to see more of an improvement in momentum following the introduction of the new pricing strategy," said Espirito Santo analyst Caroline Gulliver.
Market research group Kantar Worldpanel said on Tuesday Tesco had lost market share to rivals.
Tesco noted continued weak demand in the more discretionary areas of general merchandise, clothing and electricals.
McIlwee said third quarter like-for-like sales in this category were still negative but "had improved quite a bit" and were better than the 5 percent fall in the second quarter.
Third-quarter group sales including fuel rose 7.2 percent, broadly in line with analysts' expectations.
The international business excluding fuel and on a like-for-like basis was up 1.1 percent.
Underlying sales growth in Asia slowed to 0.8 percent, held back by disruption in Thailand caused by flooding and the warmest November for 75 years in northern Asia.
Like-for-like sales were up 0.9 percent in continental Europe and up 11.9 percent in the United States where the firm's Fresh & Easy business is gaining momentum.
Clarke said he was disappointed India had suspended plans to open its $450 billion a year supermarket sector to foreign firms. "We think it's a lost opportunity," he said.
(Reporting by James Davey and Kate Holton; Editing by Andrew Callus and Elaine Hardcastle)
© Thomson Reuters 2022 All rights reserved.