Tesco plans autumn push in banking
LONDON | Mon Jun 27, 2011 - Tesco (TSCO.L), the world's third-biggest retailer, will make its long-awaited push into banking this autumn, and will not do so by buying Lloyds (LLOY.L) branches or bidding for state-owned Northern Rock.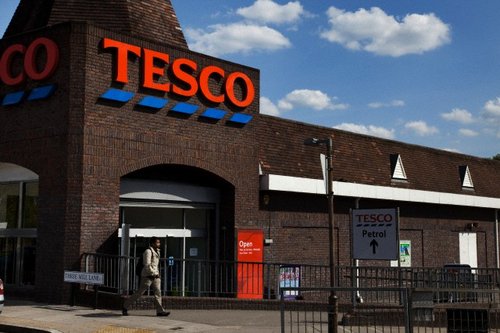 Tesco UK supermarket / Photo: Corbis
Andrew Higginson, head of Tesco's retail services business, told the Reuters Consumer and Retail Summit on Monday that the British group was focused on expanding its own operations.
The group was not interested in buying branches being sold by Lloyds (LLOY.L) and was very unlikely to bid for nationalized bank Northern Rock, he said.
Tesco announced plans to set itself up as a bank in 2008 when it bought out Royal Bank of Scotland from a financial services joint venture. While it has launched some products since then, like a fixed-rate savings account, it has focused largely on setting up its own operations, from IT platforms to call centers, and transferring customers to them.
"It has been an incredibly difficult thing to do," Higginson said, describing how the business has transformed from a joint venture employing 185 people to a team of over 3,000.
"I do not think there will be too many new competitors appearing, if our experience is anything to go by."
He said Tesco was near the end of the transition, ironing out glitches that saw some savers locked out of their accounts earlier this month and preparing to transfer 2.5 million credit card holders to a new platform in August and September.
That should allow it to launch mortgages in early autumn, a bit later than hoped, followed by tax-efficient individual savings accounts by the end of its fiscal year in February and current accounts in autumn 2012, he said.
The new products would be accompanied by a marketing drive.
PICKING UP THE PACE
"At a time when you are migrating everything, you cannot really have a big marketing push for new customers," Higginson said, when asked about Tesco Bank's low profile so far.
"Certainly we will be picking the pace of that up as we get toward the back end of the year," he said.
Some analysts have been disappointed by the time it has taken Tesco to gear up its banking business, arguing it has missed an opportunity to take custom from established players during the financial market crisis and lagged other new entrants, like Metro Bank and Virgin Money VA.UL.
However, Higginson said the group was close to its original timetable and would have competitive advantages over the longer term from its Clubcard loyalty scheme, which should make it cheaper to win and retain customers, and from its focus on the internet, where Tesco Bank does 85 percent of its business.
"If we have got lower delinquency, and we have got lower customer costs, and we have got lower operating costs ... then you have a chance to do the right thing" and offer customers consistently good deals, he said.
Tesco was aiming to build a mortgage book worth around 10 billion pounds, with an average loan-to-value ratio of 80-85 percent, he said.
Higginson said Tesco would look at the sale of Northern Rock, but was unlikely to be interested in buying it.
"Now we are moving along with our own plan, that looks less and less attractive," he said. "It is the sort of thing you would classically have a look at to take a positive decision one way or the other, bit it is very unlikely we would do it."
Higginson said Tesco had scrapped plans to set up bank branches within stores due to the cost and was instead testing areas within stores that were largely based on self-service terminals, but would still offer some level of staffing.
It was also looking at improving an existing service where customers can pay cheques in at its 30,000 British checkouts.
"It is a bit clunky today. But if we can get that to be straightforward, that would be a fantastic convenience," he said.
Higginson predicted a "very good improvement" in underlying profits at Tesco Bank this financial year, with an acceleration the year after. Tesco Bank made a profit of 264 million pounds in the year ended February 2011, out of a total profit for retail services, which also includes telecoms, internet sales and market research unit Dunhumby, of 583 million.
Higginson said Tesco was still confident of building a 1-billion-pound a year services business over the long term.
© Thomson Reuters 2022 All rights reserved.