Tesco clothing sales reach £1 billion
Tesco has become a giant in the world of clothing. The British group has, for the first time in its history, seen sales in excess of £1 billion in its fashion department. Over the past year to the end of February, clothing sales increased by more than 7% with children's clothing sales soaring by 15%. The group attributes this performance to its expansion in Central Europe (Hungary, Poland, Czech Republic and Slovakia) and to its 2009 launch of the dedicated clothing website, clothingattesco.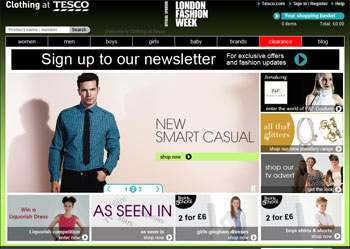 Tesco has become a heavyweight in fashion retail in Europe
In sum, the retail group saw its sales rise by 6.8% to more than €70 billion, for a profit before tax of €3.6 billion.
By Bruno Joly (English version by Jonathan Fulwell)
Copyright © 2023 FashionNetwork.com All rights reserved.