Tesco brands to lure aspirational shoppers
May 10 - Tesco, the world's No.3 retailer, plans to create new brands to spruce up its product ranges and appeal to increasingly aspirational shoppers across the world, its new chief executive told Reuters.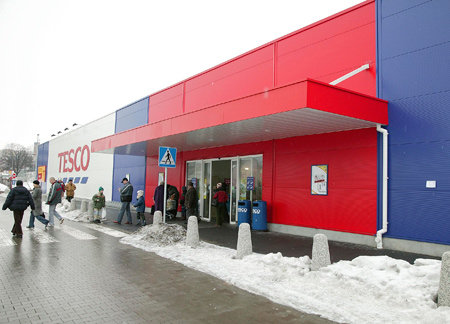 Tesco store in Poland
Phil Clarke, outlining his strategy for the supermarket group, also said Tesco would be online in all 15 of its markets this decade and, while it would continue to expand rapidly in its main British market, it would likely allocate a growing proportion of resources to its overseas businesses.
Clarke's seven-point strategy, published on Tuesday, marks a step up in ambition from the five-point plan drawn up by predecessor Terry Leahy, whom he succeeded in March.
While a pledge to grow Tesco's British business, for example, is the same, a target to be successful overseas has become a drive to be outstanding.
"It is a change of gear, not a change of direction," said Clarke, who will present the strategy to 5,000 managers in 21 meetings across the world over the next 12 weeks.
New, however, is a goal to create "highly valued brands."
Clarke said this partly referred to the group's own-brand foods ranges, from "Value" at the cheapest end to "Finest" at the most expensive.
But it was also about developing new brands for shoppers who do not necessarily want to have the name of a supermarket emblazoned across the products they buy.
"As people develop their higher levels of disposable income, they want to treat themselves. They do not want to just buy Tesco Value shower gel. They want to have something sat in their bathroom that looks like it is a brand. So you create brands," Clarke said in an interview at Tesco's headquarters in an industrial park just north of London.
Tesco has come under fire from critics for a lacklustre product range in general merchandise and a lack of innovation, and Clarke conceded last month its performance in non-food ranges was below par over Christmas.
A GLOBAL COMPANY
"It's a very compelling idea," said Neil Saunders, consulting director at retail specialists Verdict.
But he said much would depend on the execution and Tesco's attempts at building separate brands so far, like F+F in clothing and Technika in electricals, had not always succeeded in created a differentiated message that attracts new customers.
"They have to think much more like a brand, like a Unilever or a Sony. It's possible they can do that, but that's where the challenge will lie because it's a different ball game," he said.
At 11:10 a.m., Tesco shares were up 1.3 percent at 409.402 pence, outperforming a 0.9 percent rise on the STOXX Europe 600 retail index .SXRP.
Clarke said Tesco would work to expand brands like F+F and Technika and create new ones in other product areas like Go Cook in kitchenware and Lighter Choices in health foods, taking them to all of its markets to benefit from economies of scale.
"You develop it once, and you put it into many, many countries using your global supply chain," Clarke said.
He said Tesco also wanted to make better use of the skills and experience in its overseas business to build a truly global company -- the second of his additions to the group strategy.
Clarke said there was scope to continue expanding Tesco's British business, where it accounts for about 30 percent of grocery sales and over 10 percent of all retail spending.
"I think the UK can continue to grow its stores at least for three years broadly at the pace we have seen for the past five years," he said, adding he was engaging with protestors and politicians who claim the business has got too big.
If overseas businesses delivered according to plan, however, a growing proportion of capital spending would eventually be allocated there, he said.
Clarke said he did not get a sense a lot of shareholders were growing impatient with the group's loss-making business in the United States, which was criticised by influential U.S. investor Warren Buffett last month.
"I think lots of people are poking at the strategy ... In the end we all know what matters is performance, and I have set some milestones and I think that is the right thing to do," he said, referring to his targets for U.S. chain Fresh & Easy to reduce its losses this financial year and break even by the end of 2012-13.

By Mark Potter
(Additional reporting by James Davey; Editing by Louise Heavens and Erica Billingham)
© Thomson Reuters 2023 All rights reserved.