Tesco boss forgoes bonus after poor UK results
LONDON - Tesco boss Philip Clarke has passed up an annual bonus of about 372,000 pounds ($588,000) after the retailer's poor performance in its main British market, heading off a potential outcry by investors increasingly critical of executive pay.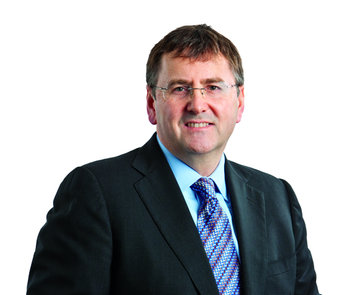 Philip Clarke / Photo: Tesco Plc
The chief executive was paid a basic salary of over 1 million pounds last year and was awarded share options worth 2.7 million pounds during his first year on the job, according to the company's annual report.
The world's third-biggest retailer, which issued a shock profit warning in January, also said on Tuesday its top 5,000 managers would receive a reduced annual bonus representing 16.9 percent of their maximum entitlement.
Executive directors will get 13.5 percent of the maximum.
Tesco shares have lost almost a quarter of their value this year after the supermarket group warned it needed to invest around 1 billion pounds in a bid to stem market share losses in Britain.
"I decided at the beginning of the year that I would decline my annual bonus for 2012," Clarke said in a statement emailed to Reuters on Tuesday.
"I wasn't satisfied with the performance in the UK and I won't take the bonus. I'm confident that we're tackling the right issues."
Clarke, a former Tesco shelf stacker, would have been entitled to a payout of about 372,000 pounds had he taken the 13.5 percent being paid to other executive directors.
His decision comes amidst a round of high profile shareholder revolts over executive pay at companies like Barclays, Inmarsat and Prudential in a phenomenon dubbed the "shareholder spring".
Investor resistance to big pay rises at underperforming firms has also led Aviva boss Andrew Moss, and Sly Bailey, head of newspaper group Trinity Mirror, to quit this month.
Richard Marwood, a fund manager at AXA Investment Managers, one of Tesco's top 20 investors, welcomed Clarke's decision.
"I think Clarke's move is laudable. It shows sensitivity to both the current investor mood on remuneration and the challenges facing Tesco," he said, adding this was his personal view rather than that of AXA.
Others, however, were concerned about the impact on morale among Tesco managers.
"(These are) troubling times for the company and the widespread cut in bonuses could threaten a senior management brain drain," said a UK fund manager who no longer holds shares in Tesco.
Tesco's annual report, published on Tuesday, shows Clarke's overall package for the 2011/2012 business year was 1.16 million pounds, including a salary of 1.09 million. That's almost half the 2.26 million pound package he enjoyed in 2010/2011.
His base salary will be little changed in 2012/13.
In March, Clarke jettisoned the head of Tesco's UK arm, assumed his duties and is now directly in the firing line if his plans fail to halt a slide in sales.
Last year, Tesco won over shareholders with a simpler and longer-term focused executive pay scheme following years of disputes over how it rewards management. In 2010, over 40 percent of its shareholders either opposed or abstained in a vote over management pay.
The annual report shows that in July last year - a few months after taking up the role of chief executive - Clarke was granted 752,331 share options then worth over 3 million pounds as part of a Long Term Performance Share Plan.
That almost doubled his overall holding under the scheme to 1.69 million shares. Under a separate Executive Incentive Plan, Clarke was awarded a further 155,518 shares worth over 640,000 pounds in May 2011.
In total the number of share options held by Clarke rose to 4.35 million last year from 3.5 million a year earlier. Based on a current share price of 310 pence, the increase in the size of his holding of options was worth almost 2.7 million pounds.
The number of options listed in the annual report is the full potential allowance and the amount finally awarded will depend on the group's performance.
© Thomson Reuters 2022 All rights reserved.