Ted Baker sales surge, eyes further expansion
LONDON - British designer clothing brand Ted Baker reported a surge in retail sales on Wednesday and said it planned more international store openings in North America and Asia in 2012 to tap into growing consumer demand.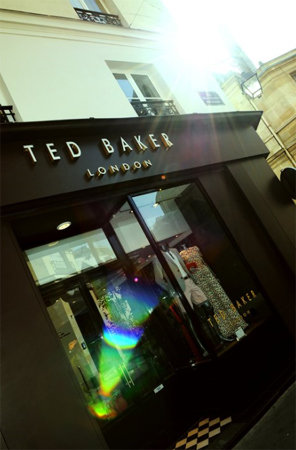 Ted Baker store on rue des Francs Bourgeois, Paris
Ted Baker, which started as a menswear brand in Glasgow in 1987, reported a 14 percent rise in retail sales, with sales in its home market and the rest of Europe up 8.7 percent to 148.6 million pounds.
Retail sales in the United States jumped 69 percent to $34.9 million.
The company said pretax profit rose 0.1 percent to 24.3 million pounds ($38.53 million) for the year to end January 2012, slightly below a consensus estimate of 26.6 million pounds provided by the company.
Profit before tax and exceptional costs rose by 11.7 percent to 27.1 million pounds. The company said exceptional costs included rent for stores that had not yet started trading and a provision for bad and doubtful debts in their exposure to Greece.
"The group's excellent results for the year, delivered against a challenging trading backdrop, are testament to the strength of the Ted Baker brand, our collections and, above all, the energy and commitment of our team in bringing Ted to the world stage," said Chief Executive Ray Kelvin.
The group plans a number of international openings this year, including new stores in Canada, the U.S., and China after it opened its first store in Japan and a concession in Korea recently.
The company has escaped the worst of the economic downturn that has hit British retailers hard as consumers rein in spending because of rising prices, muted wages growth and government austerity measures.
The retailer reported strong sales over the Christmas period and unlike other British retailers did not have to slash prices to encourage buying in the run-up to the holidays.
Ted Baker is proposing a total dividend of 23.4 pence, 13.6 percent higher than last year.

Reporting by Clare Kane
© Thomson Reuters 2023 All rights reserved.