Target, Kohl's results show economy slowly improving
Feb 24 - Mid-tier department store operator Kohl's Corp expects more sales gains this year, while discount retailer Target Corp said fewer shoppers were defaulting on their credit card debt, signs that consumers' finances are gradually getting better.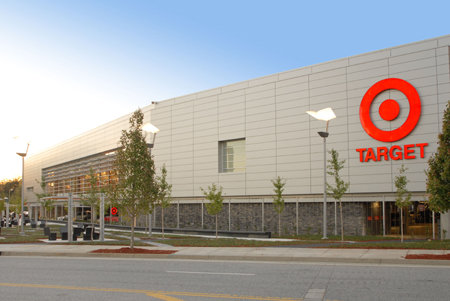 Target store at Atlantic station
Kohl's, which caters to price-conscious shoppers, had strong sales over the holidays and said sales at its established stores could rise as much as 4 percent this year.
But Chief Executive Officer Kevin Mansell warned analysts on a call that consumers were not even close to going on wild shopping sprees.
"The consumer is still buying cautiously and therefore, less open to paying higher prices for goods that are really discretionary," Mansell said, adding that shoppers could pull back in the fall when in-store clothing prices start reflecting higher cotton costs.
Still, with unemployment starting to edge down, shoppers have grown better able to manage their credit card bills and have started trading back up to fancier chains.
Target, whose sales outperformed larger but more down-market rival Wal-Mart Stores Inc during the holiday quarter, said earnings from its credit business nearly quadrupled from a year earlier as consumers' improving finances helped reduce the company's bad debt expense by 71 percent.
Kohl's credit business took fewer write-offs for bad debts and earned much less from late fees.
CEO Mansell warned Wall Street that retailers have to fight for market share because consumer spending is not robust enough to lift everyone.
Quarterly sales fell 4.5 percent at Sears Holdings Corp's namesake chain, even as Macy's Inc and other rivals have reported increases, and the company reported a lower quarterly profit.
Yet, same-store sales at Sears' Kmart chain rose 2.5 percent, reflecting how budget-conscious U.S. shoppers remain.
Heinz Co CEO William Johnson said on Thursday at the Consumer Analyst Group of New York meeting in Boca Raton, Florida, that consumer confidence still varies widely by income level.
"Upstreamers," or consumers with annual income of more than $70,000 a year, increased spending on groceries 4 percent since the start of the recession, Johnson said, while spending by "mainstreamers" is down 2 percent.
Some of the most upbeat sales forecasts for the year have come from upscale retailers like Saks Inc and Nordstrom Inc as high-income earners have resumed spending.
But those chains are planning to focus their expansion on their lower-price outlets chains, Off Fifth and Rack respectively. While shoppers still want designer brands, they also want them at a discount, reflecting limited growth potential for luxury items.
Shares of Kohl's, which declared its first dividend, rose 2.6 percent in morning trading, while Target was up 2.4 percent. Sears fell 6.0 percent. The broader S&P Retail Index was up 0.6 percent.
(Reporting by Phil Wahba; additional reporting by Dhanya Skariachan in New York and Martinne Geller in Boca Raton; Editing by Lisa Von Ahn)
© Thomson Reuters 2022 All rights reserved.