Target hopes exclusive designer deals boost sales
August 3 - Target Corp is hoping that Gwen Stefani can be the next Michael Graves. Just as architect and designer Graves's tea kettles and other home goods helped Target pioneer the concept of higher-end partnerships at mass chains, the retailer hopes hip children's clothes from Stefani will bring in shoppers now that every retailer seems to feature exclusive merchandise.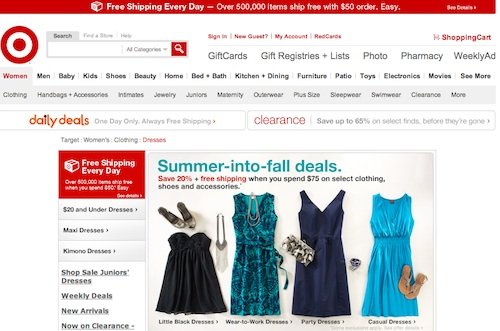 Target.com
"That really lifted their image in a huge way that lasts until today," Peter Brown, vice chairman of retail consultancy Kurt Salmon, said of the 1999 debut of Michael Graves items.
Heading into the critical holiday season, Target will roll out Harajuku Mini kids' clothing from singer and designer Stefani that will stay on its racks for more than a year.
Target will also stock women's hats, jewelry and lingerie from high-end designers for shorter periods.
"It provides, I think, an opportunity to showcase to someone things they might not be able to afford otherwise," said Trish Adams, senior vice president of apparel and accessories at Target. "With all of our sourcing power we're able to do things at a price that most people can't even think about doing."
The four lines, which include hats from milliner Albertus Swanepoel and Josie Natori lingerie, are all priced under $50. The least expensive items, in the Harajuku Mini line debuting in November, will be $3.99. The priciest pieces, in the Dana Kellin jewelry collection due in October, are $49.99.
"When you're competing on price, you need something that sticks out," said Wall Street Strategies analyst Brian Sozzi, who said that Target seems to have lost some of its luster in exclusive apparel as other retailers signed their own deals.
The lines, when done right, also boost retailers' profits.
"Generally they add a few points to the bottom line," said Brown. "They are very important profit drivers in these businesses, in addition to being real ways to be different."
These days, Target faces stepped up competition as other stores try to lure shoppers, mainly women, with items they cannot buy anywhere else.
At the same time, all retailers are struggling to hit the right balance of costs and price tags after spending more on cotton and other materials late in 2010 and early in 2011.
Target decided not raise all of its prices. It made changes such as moving some manufacturing to lower-cost countries, using different fabrics or blends, and even changing the types of button hole used to keep prices in check, said Adams.
Still, average prices in the third and fourth quarters "will be up double digits both in home and apparel at Target," she said.
COMPETITION HEATS UP HEADING INTO FALL
Apparel and accessories are critical to Target, accounting for 20 percent of its $65.8 billion in sales last year.
While that percentage is expected to dip as the company starts selling a wider variety of food at more of its stores, apparel carries much higher returns than the low-single digit profit margins retailers squeeze out by selling food.
At Target, exclusive brands such as C9 by Champion from Hanesbrands Inc, Just One Year by Carter's Inc, Circo and Merona make up the bulk of apparel sales.
"Apparel has always been their kind of claim to fame," said Sozzi. "So they have to get the exciting brands into stores and go out and market effectively, because I think the department stores are going to be out there marketing their brands quite effectively," said Sozzi.
At Kohl's Corp, private and exclusive lines such as Simply Vera Vera Wang accounted for 50 percent of first-quarter apparel sales. Its new goods include lines from Jennifer Lopez and Marc Anthony that are moving forward despite the celebrity singers' very public breakup.
J.C. Penney Co Inc's proprietary items such as One Kiss jewelry from Cindy Crawford and I "heart" Ronson clothing from Charlotte Ronson make up nearly 50 percent of sales.
At Macy's Inc, which on average has higher-income shoppers than the others, private brands are less crucial to overall results. Brands such as Charter Club represented about 20 percent of Macy's sales in 2010.
Still, Macy's is expanding lines such as Material Girl, the brainchild of Madonna and her daughter that includes clothing and accessories, and is adding beauty products, bedding and intimate apparel.
"This was once just kind of a margin enhancer for basic products," said Kurt Salmon's Brown. "Now, it's the the foundation of the successful differentiation amongst most of the mass retailers."

(Additional reporting by Phil Wahba in New York; Editing by Steve Orlofsky)
© Thomson Reuters 2023 All rights reserved.