Target eyes C$6 billion in annual Canadian sales
April 6 - U.S. retail giant Target Corp expects to generate at least C$6 billion ($6.25 billion) in annual sales in Canada in as little as six years as it makes its first foray into a foreign market.

Chief financial officer Douglas Scovanner also said on Wednesday the No. 2 U.S. discount chain, which announced its entry into the Canadian market in January, now plans to open about 200 Canadian stores, expanding on earlier estimates.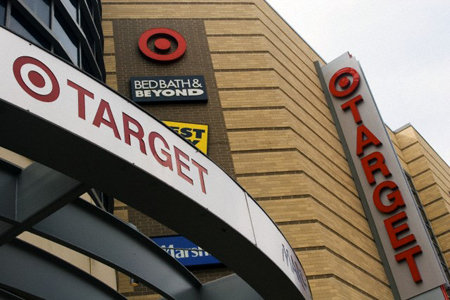 Target store in Washington
"The sun, the moon and the stars all lined up properly ... Canada represents a vibrant retail market, where we think we can highly likely succeed," Scovanner told Reuters in an interview.
"Commencing right now, we are looking at other sites in Canada to be able to ultimately have a presence of what will likely be 200 or more stores," he said.
Target announced a C$1.83 billion deal on January 13 to acquire the leases on up to 220 Zellers discount stores from Hudson's Bay Co, North America's oldest company.
The move, which will see Target open its first stores in 2013, will add a new level of competition to an already cutthroat Canadian market, where incumbents are already bracing for its entry.
Minneapolis, Minnesota-based Target, with 1,750 stores in 49 U.S. states, has made discount merchandise appealing to upmarket U.S. consumers, some of whom fondly call it, with a faux French accent, "Tar-zhay".
The company is seeking to replicate its success in Canada.
"Our presence in the Canadian landscape will, in a very short period of time, reflect our presence and positioning in the U.S.," said Scovanner, who joined Target in 1994, the year Wal-Mart Stores Inc entered Canada.
Scovanner said Target plans to invest "many billions" of dollars in Canada -- up to $10 million per store -- and generate annual pretax profits of "hundreds of millions" of dollars in the country as a whole.
"We will need to invest on an ongoing basis in acquiring new sites and new buildings," he said.
Investments will include, for example, about $500 million for the supply chain and information technology.
Once built, Target's Canadian operations could represent 6 percent of annual revenue forecasts as it works to generate sales of $100 billion, six or seven years from now. In the year ended January 2011, Target's sales were $65.8 billion.
It plans to double earnings in the same period to $8 per share.
The expansion will bring Target face to face with arch rival Wal-Mart, the No. 1 U.S. discount retailer, which is in a sustained expansion drive in Canada.
It will also need to battle with top domestic grocers Loblaw Cos Ltd, Empire Co Ltd and Metro Inc, which are increasingly competing on price and product selection.
Scovanner said Target will offer food and pharmacy items in stores in Canada, where retailers are already encroaching on each other's territory to offer competing products.
"It clearly will be our intent to have some variety of food products in as many stores as we can," he said. Target does not have any plans to start any SuperTarget stores in Canada at the moment, he added.
Many of Target's Canadian stores will likely be much more profitable than the average U.S. outlet, Scovanner said.
"The best hundred stores will certainly average to be more profitable and have more sales than the average U.S. store."
(Reporting by S. John Tilak, additional reporting by Jessica Wohl in Chicago; editing by Peter Galloway and Rob Wilson)
© Thomson Reuters 2022 All rights reserved.