Target entry won't affect Canada retailers equally
Mar 7 - The imminent arrival of Target Corp and other U.S. chain stores in the Canadian market may drive smart investors to Canadian retailers that are most insulated from the cross-border incursion.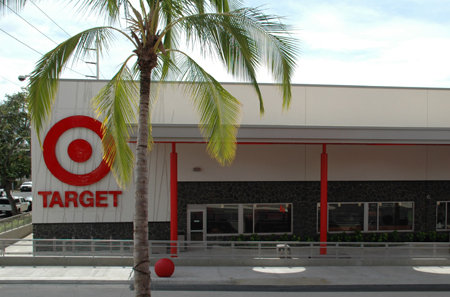 Target store in Honolulu, Hawaii
Stores that compete most directly with Target, notably clothiers and department stores, are not in an envious position.
Apparel brands such as Reitmans, Le Chateau, Joe Fresh, a unit of Loblaw, and Mark's Work Wearhouse, owned by Canadian Tire, are vulnerable, analysts say.
On the other hand, convenience store operators, sporting goods chains, and Lululemon Athletica and other specialty stores will likely sail through unscathed.
"Investors should take a look at the companies they own, scan the landscape, see who is coming and decide: Is it going to negatively impact them or not?" Edward Jones analyst Brian Yarbrough said.
"You have to look at your exposure versus Target," he said, adding that Target will take market share. "There are no ifs or buts about it."
Investors already appear wary about that possibility. Since Target announced its entry on Jan. 13, the S&P/TSE Canadian consumer discretionary index has fallen 4.5 percent. Some of the index constituents are Canadian Tire, Reitmans, Rona, Dollarama and Forzani Group.
That compares with a 5.6 percent rise by the Toronto Stock Exchange's S&P/TSX composite index.
Earlier this year, Target said it was taking over Canadian leases for Zellers stores owned by Hudson's Bay Co. It plans to operate 100 to 150 stores under its own name in Canada by 2014. U.S. apparel and household-items chain Marshalls is looking to open stores in Ontario this month, its website says.
Analysts point out, however, that investors should keep in mind that not all Canadian retailers will suffer equally.
"You would want to have a good sense of the lines of business (Target) operates in and where these would overlap with existing retailers in Canada," said Ryan Crowther, retail analyst at Bissett Investment Management.
Bissett, a unit of U.S.-based fund manager Franklin Templeton, has C$13 billion ($13 billion) in assets under management. It is the sixth biggest shareholder in Canadian Tire and the fifth biggest shareholder in Alimentation Couche-Tard, the country's largest convenience store operator.
Canadian Tire's more heavily traded class A shares have declined 5.3 percent since Target revealed its Canada plans.
Crowther agrees that Target will have some impact on Canadian Tire because of overlapping lines including household products. Even so, "it's not something that would be destructive to our investment thesis," he said.
Canadian Tire "has a strong brand, offers an increasing free cash flow profile and trades at an attractive valuation. We're not changing our position in Canadian Tire based on Target's entry into Canada," Crowther said.
The current American invasion is, in fact, a second wave. The first, launched in 1994, brought Wal-Mart Stores Inc and Home Depot Inc to Canada. Both chains, which now have deep roots north of the border, initially hurt smaller retailers, especially local grocery and hardware stores. This time, most in danger are department stores such as Sears Canada Inc, majority owned by U.S.-based Sears Holdings Corp; Reitmans, Le Chateau and other apparel chains; and, to a lesser extent, the big Canadian grocers including Loblaw Cos Ltd, Empire Co and Metro Inc.
It is not clear how much food Target will sell at its Canadian stores. The stores are expected to be smaller than their U.S. counterparts.
The Canadian retail market is growing faster than its U.S. counterpart. Even so, the growth may not be enough to offset the market share loss for Canadian retailers.
"Consumer income is going up. The Canadian population is growing. Those are two things that make the pie a little bit larger," said Daniel Baer, Canadian leader of consumer products at Ernst & Young.
"Just because there are new entrants in the market, it doesn't mean the consumer is necessarily going to spend more money," Baer said. "They'll probably spend it differently."
By S. John Tilak
(Reporting by S. John Tilak in Toronto and Jessica Wohl in Chicago; editing by Frank McGurty and Peter Galloway)
© Thomson Reuters 2022 All rights reserved.