Talbots sets financing deal, posts surprise profit
By Martinne Geller
NEW YORK (Reuters) - Talbots Inc (TLB.N) laid out an acquisition and financing plan that would reduce debt and end a 21-year relationship with majority-owner Aeon (8267.T), sending shares of the clothing retailer up 23 percent.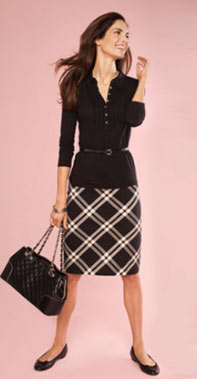 Talbots Inc petite womenswear - Photo: www.talbots.com
Talbots, which caters to mature women with sweaters, blazers and other apparel, also reported a surprising quarterly profit even though sales slumped.
Talbots said it will reduce its debt by about $330 million through its acquisition of BPW Acquisition Corp (BPW.A), a special purpose acquisition company with $350 million in cash. Additional financing will come from GE Capital, the financing arm of General Electric Co (GE.N), through a $200 million senior secured revolving credit facility.
Following the closing of the deal, expected by the end of the first quarter of 2010, Aeon will no longer hold any Talbots debt or equity. Aeon, Japan's second-largest retailer, has been Talbots' majority shareholder since 1988.
"All good things come to an end," Talbots Chief Executive Trudy Sullivan said on a conference call with analysts. "We are pleased that our agreement with BPW serves the best interest of our public shareholders and permits an orderly transition for Aeon."
An Aeon official could not be immediately reached for comment.
Talbots has managed inventory tightly, cut staff and streamlined operations as it tries to bring back shoppers over the age of 35.
Third-quarter net income from continuing operations was $15.5 million, or 28 cents a share, compared with $14.8 million, or 28 cents a share, a year earlier.
Excluding items, the profit was 30 cents a share. Analysts on average were expecting a loss of 14 cents a share, according to Thomson Reuters I/B/E/S.
Total sales decreased 13.5 percent to $308.9 million.
For the current fourth quarter, Talbots expects to report a loss from continuing operations of 6 cents to 14 cents per share, excluding items, on sales expected to fall 6 percent to 8 percent.
Talbots shares soared $1.70 to $8.91 in heavy late morning trade on the New York Stock Exchange.
(Reporting by Martinne Geller and Dhanya Skariachan, editing by Dave Zimmerman)
© Thomson Reuters 2023 All rights reserved.