Tag Heuer says Seiko parts won't harm "Swiss made"
ZURICH - Watchmaker Tag Heuer, squeezed by a cut in supplies from Swiss rival Swatch, said on Wednesday sourcing parts from Japanese peer Seiko will not tarnish its prized "Swiss made" tag.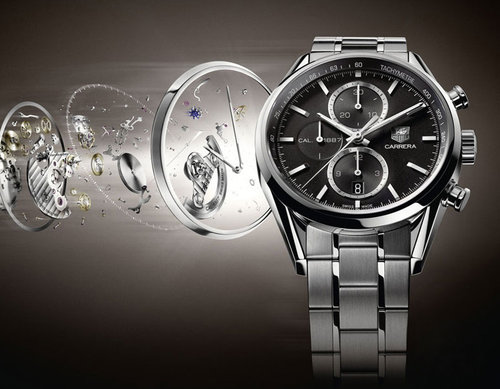 Photo: Tag Heuer
The move by Swatch, for decades the main supplier to the Swiss industry, has sent watch companies scrambling to build in-house production or form alliances with alternative makers of movements, dials and cases.
Swatch has said repeatedly it wants to concentrate on its own brands and encourage rivals to build their own production capacity.
Tag Heuer, a unit of French luxury group LVMH said a deal it announced on Wednesday to use parts from Seiko Instruments Inc. would not hurt its "Swiss made" image as the company is a member of the Swiss Chronometry Society.
"We are the first company to announce in a transparent way that we are going to fit our movements with parts from Seiko, which are known as among the best," Ch ief Executive Jean-Christophe Babin told Reuters.
"The Swiss brand guarantees quality and reliability but not necessarily the fact that 100 percent of the components come from Switzerland," he said, adding no-one worries that Switzerland imports millions of cases and dials.
The Seiko components will be used in Tag Heuer's Calibre 1887 mechanical chronograph.
"This seems like a good thing. Given the need for an alternative supplier, of course competitors will highlight that Seiko is Japanese even if the parts and movements are made in Switzerland," Kepler analyst Jon Cox said.
But Cox said the reduction in supply would benefit Swatch's margin as it will be able to charge what it likes for its components, while rivals are forced to invest in production.
The Swiss parliament is currently debating whether to tighten rules on what constitutes a "Swiss made" product, in a bid to stop competitors knocking off poorer imitations which dent the country's reputation for quality.
BLESSING OR CURSE?
The Federation of the Swiss Watch Industry backs more stringent rules, saying they will help protect jobs.
But smaller manufacturers, most at threat from Swatch's cuts, argue this could be another nail in the coffin.
Many Swiss exporters hurt by the surge in the Swiss franc are moving production abroad. But the watch industry - Switzerland's third most important export sector - is tied to keeping production in the country.
The lower house of parliament last week proposed at least 60 percent of a watch's value should be produced in Switzerland, up from a current law that requires 50 percent of movements to be manufactured domestically. The motion must still be passed by the upper house.
Tag Heuer, which has forecast sales of 1 billion Swiss francs this year, is building a new production site to create an extra 100 jobs, while Swatch wants to create at least 500 jobs in Switzerland this year.
With unemployment around a low 3 percent, watch makers are turning to nimble-fingered hairdressers and manicurists as they look for staff.
© Thomson Reuters 2023 All rights reserved.