Swatch Group hits upbeat note
By Martin de Sa'Pinto
ZURICH (Reuters) - Swatch Group, the world's largest watchmaker, expects stronger demand for its timepieces to boost profitability this year, giving the latest sign the watch industry is recovering from a deep slump.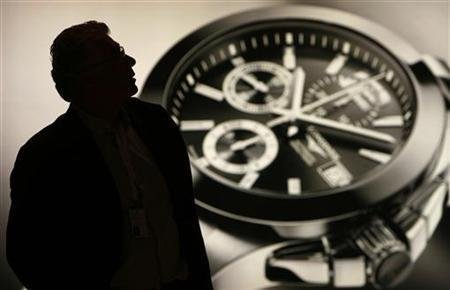 Swatch Group's watch and jewellery sales slipped 7.7 percent in 2009, easily outperforming a 24 percent drop in Swiss watch exports seen in the first 11 months of the year as it won market share.
The group, best known for its plastic namesake watches, said it expected sales to rise this year as consumers in most countries loosen their purse strings. It also said a growing middle class in emerging markets was set to bolster demand.
"A promising trend can be identified, based on the excellent sell-through figures in January 2010 as well as the order entries for the months to come," the group said in a statement.
Swatch Group's statement comes after a flurry of upbeat comments from the watch industry, fuelling hopes the sector is emerging from its sharpest drop in decline in some twenty years.
Earlier this week, luxury goods group Richemont, which competes with LVMH and Hermes, posted forecast-beating sales over the Christmas period thanks to booming sales in the Asia-Pacific region.
At 0925 GMT, shares in the group were trading 1.2 percent lower, while Richemont shares had slipped 1.5 percent and the DJ Stoxx European personal and household goods index was down 0.7 percent.
Swatch Group shares have already gained 13 percent this year as prospects for the industry have brightened and traders said the positive news from the company was already priced in.
MERRY CHRISTMAS
Swatch Group, which also sells such top-end brands as Blancpain and Breguet, said December 2009 was the strongest December the group had ever seen.
"Strong Christmas sales clearly beat expectations," the group said, adding its middle price range with brands such as Tissot, Longines and Rado had helped to offset the weaker demand for top luxury products.
The group has also benefitted from its Omega brand, which has a leading position in China and has gained visibility thanks to its role as timekeeper of the Olympic Games in Beijing in 2008 and Vancouver this year.
"As we already saw in other results (Richemont, Tiffany) the watch/jewellery industry has reached in the fourth quarter of 2009 a turning point and the outlook for 2010 looks much better," Vontobel analyst Rene Weber said in a note.
The group's gross sales fell by 6.3 percent at constant exchange rates and excluding divestments to 5.4 billion Swiss francs (3.18 billion pounds) in 2009, but this was still the third best year in the group's history, Swatch Group said.
The group sees a better operating profit margin for 2009 than the 14.7 percent recorded in the first six months of the year, while its second-half net income is also expected to be better than the first-half result of 301 million francs.
(Additional reporting by Sven Egenter; writing by Katie Reid; editing by Greg Mahlich and Karen Foster)
© Thomson Reuters 2023 All rights reserved.