Swatch Group ends partnership with Tiffany
Sept 12 - Swatch Group said it terminated its alliance with Tiffany & Co. , blaming the U.S. jeweller for blocking the development of their watch joint venture and relaunching speculation that Tiffany could become a takeover target.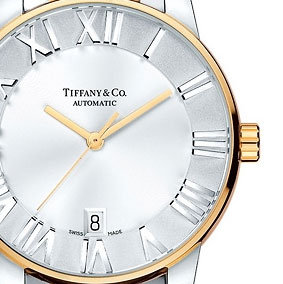 Tiffany watch
Swatch Group Chairwoman Nayla Hayek told Reuters in March that Tiffany Watch Co., set up in 2007 to produce Swiss-made watches under the Tiffany trademark, was not as successful as hoped because the watches were not well displayed in Tiffany's stores.
"Swatch Group and Tiffany Watch Co. Ltd. will press claims for damages against Tiffany & Co., New York, in compensation for the loss of planned long-term future business," the world's biggest watchmaker said in a statement on Monday.
Tiffany & Co. was not immediately available for comment.
The strategic alliance, signed for an initial term of 20 years, was meant to boost the development, production and worldwide distribution of Tiffany branded watches, and several watch collections had since been launched.
Kepler Capital Markets' analyst Jon Cox said he expected costs of around 20 million Swiss francs ($22.7 million)associated with closing down the venture, which was effectively controlled by Swatch Group while Tiffany received a royalty.
"In addition, the move will likely renew speculation of a Tiffany takeover given the Swatch Group watch deal was seen as a possible obstacle," he said.
Cox said Swatch Group had lost its only real jewellery brand. "(This) is disappointing and could trigger speculation of a joint venture elsewhere in the sector," he said, citing diamond miner and retailer Harry Winston as a possible partner.
Swatch Group shares were down 1.5 percent at 1104 GMT, outperforming a 2.2 percent weaker STOXX Europe 600 Personal & Household Goods index .
Vontobel analyst Rene Weber said he estimated Tiffany watch sales at about 30 million Swiss francs in 2010. "There was a potential of 300-400 million francs," he said.

By Silke Koltrowitz
(Editing by Mike Nesbit)
© Thomson Reuters 2023 All rights reserved.