Swatch eyes single or double digit sales growth
BIENNE - Swatch Group , the world's biggest watchmaker, is expecting high single or double-digit sales growth this year as demand from China and for middle and lower-price products holds up in the face of global economic uncertainty.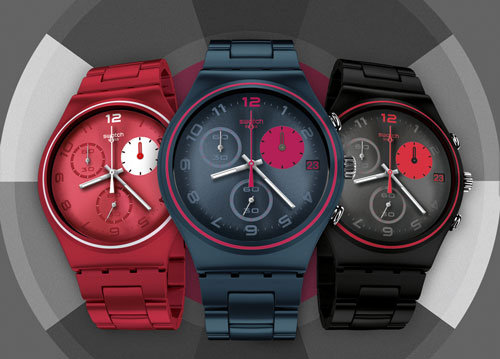 Photo: Swatch
"We are trying to beat the 8 billion Swiss franc ($8.51 billion) mark this year, which would translate into another record year", Swatch Chief Executive Nick Hayek told reporters on the sidelines of the company's annual general meeting on Wednesday.
The company had sales of 7.14 billion francs last year.
The luxury industry has performed well in the current uncertain economic environment, and strong demand from Asian shoppers has helped lift luxury goods companies' results. Richemont, the world's second-largest luxury goods group, beat expectations with a 43 percent rise in full-year profit on Wednesday.
Hayek said growth for Swatch was mainly coming from the middle and lower-price segments, which has helped to offset slowing demand for high-end watches that has hurt some of its competitors.
"China is exploding," Hayek said referring to strong growth for modestly priced watch brands such as Tissot, Certina and CK but also Swatch's colourful trademark plastic watch.
In mainland China the company is currently experiencing growth in the range of 50 to 70 percent, he said.
Hayek cautioned that current growth rates may not continue indefinitely, however.
"You cannot make a projection that an industry is growing year by year by 20 or 30 percent. That's an unhealthy situation," he said.
To defend its position, Swatch has so far resisted hiking its sales prices despite rising prices for important raw materials such as gold and diamonds, said Nayla Hayek, Swatch president and sister of the CEO.
The company will continue to invest in Switzerland despite the current strong value of the Franc, she said, and she also foreshadowed a higher dividend payment for 2012.
For 2011 Swatch had announced a 15 percent dividend hike earlier this year.
© Thomson Reuters 2023 All rights reserved.