Swatch brings art and watches together
At the end of June, Venice was celebrating, the Piazza San Marco in particular. Swatch, the town's partner for promoting art, had organised a showing of contemporary artworks there. This initiative was accompanied by the launch of the CreArt line, produced in collaboration with Billy the Artist, Ted Scapa, Matthew Langille and Grems.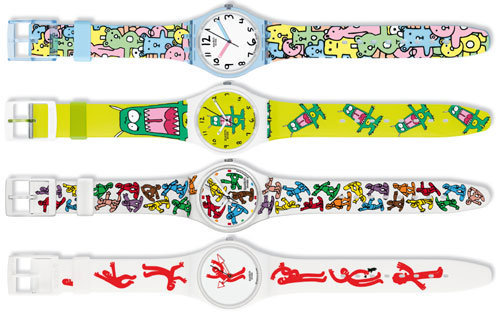 CreArt 2009 from Swatch. Top to bottom: Snuggle Bunc, Germaholic, Big Ride and Show Your Moves
The New Yorker Billy the Artist "captures the energy and the force of the city which surrounds it in a way that defines it like primitive urban reality and which consists of a kaleidoscope of images assembled like a puzzle, celebrating diversity and exultation and the human spirit", explained Swatch, for whom he has designed the AfterDark and the Morning Glow; only 11,111 versions of the latter will be sold.
For his part the painter, sculptor and creator of artistic objects Ted Scapa expressed his "love of colour and creative spirit" across four models. These mischievous designs are called the Pink Ride, Big Ride, Winner Ride – which will only have 999 versions made – and Threesixty ride.
As for the multi-talented artist Matthew Langille, he has thought up the Snuggle Bunc featuring a plethora of teddy-bears, Floating Away with numbers hanging from clouds and the Germaholic which sports a screaming green monster.
Street painter, rapper and designer, the rebel Grems likes to transform "public spaces into open air art galleries and street art to enjoying being alive". For Swatch he has designed the Show Your Moves, Moving Beat and Street Club watches.
By Jonathan Fulwell (Source: Julie Mangaud)
Copyright © 2022 FashionNetwork.com All rights reserved.