SuperGroup targets super growth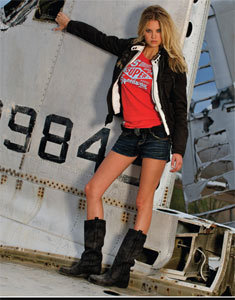 Superdry
By James Davey
LONDON (Reuters) - The head of SuperGroup, the company behind the Superdry fashion brand worn by celebrities such as David Beckham and Zac Efron, has big ambitions to make it a global player.
"The product range, the store fit, the whole thing is working so incredibly well, this is our chance now to become something globally quite enormous," Chief Executive Julian Dunkerton told Reuters in an interview.
He was speaking after SuperGroup said it would list on the London Stock Exchange later this month with a market value of 395 million pounds after its initial public offering (IPO) to institutions was "heavily oversubscribed."
"Part of this whole process is to give us a structure that can deliver something big," said Dunkerton, who spoke to 120 institutions during an investor roadshow for the IPO.
The institutional offer and a small retail offer, which the CEO expects to also be oversubscribed, will raise 120 million pounds.
Dunkerton and his management team will share 105 million of the proceeds, with a balance of just 15 million pounds to fund SuperGroup's growth plans.
The CEO said this was sufficient given that the firm is highly cash generative.
"We're pretty unique in that we've doubled in size in a year and spat out cash while doing so. I don't know another business model like it," he said.
Dunkerton is targeting expansion from 41 to 150 Superdry and Cult stores in the UK and Ireland.
"We're predicting a 20 store roll-out programme per year in the UK. That's enough to keep us going for the next four to five years and globally the franchise model is working incredibly, going through the roof," he said. The firm has 54 concessions in House of Fraser department stores, and also has a presence in Belgium, France, Scandinavia, the U.S. and Australia.
"We have become one of the most profitable store groups on the (UK) high street as a percentage of our turnover. Every single store in our chain is profitable, every single territory that we sell to globally is profitable and we have a very plain and obvious expansion ability," said the CEO.
"It's taken us 25 years to get to this point to prove the model. It's there, it's ready and it's scaleable." Dunkerton dismissed the suggestion that the fickle nature of the fashion industry meant investing in SuperGroup was a gamble.
"We're in the safest part of the fashion industry. I like to call it the clothing industry as opposed to the fashion industry because we're not making frilly knee-length dresses," he said. "Our bread and butter is hoods, Ts, quite simple, calculated, safe product. It's about the safest part of the market as you could possibly be in in the clothing business."
In January the firm posted a 29 percent rise in like-for-like sales for the five weeks to January 3.
Dunkerton said the firm had traded well since. "Deliveries are ahead of schedule," he said.
(Editing by Mark Potter)
© Thomson Reuters 2022 All rights reserved.